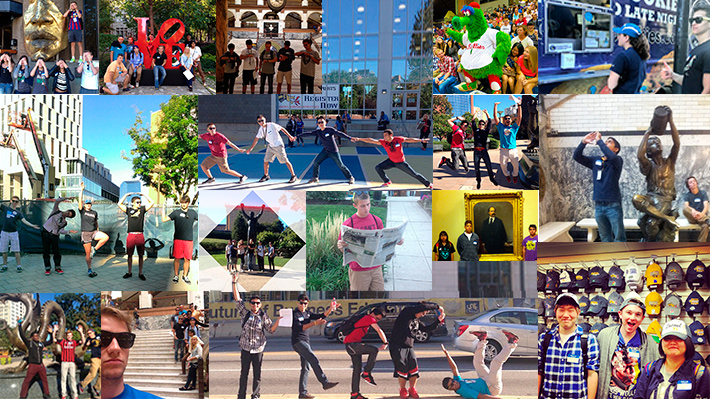 LeBow Freshmen Say Hello to Drexel on Instagram
Last week, LeBow welcomed 677 freshmen from 40 different countries to campus with a competition that featured social media, a healthy dose of friendly competition and a chance for a new breed of Drexel Dragons to mingle with some dinosaurs.
Dressed in blue and gold-hued sunglasses and armed with smartphones, over 450 participants broke into 52 teams to compete in the first-ever LeBow Amazing Race. With the support of 48 peer leaders and upperclassmen, each team took to the streets of Philadelphia on a scavenger hunt that challenged the young scholars to share Instagram photos of landmarks around the city — including the Art Museum, Rittenhouse Square, the Comcast building and Penn's Love statue, as well as destinations from all corners of Drexel's campus. Each post was tagged #LeBowNSD (New Student Days). In all, 891 photos were posted — making the initiative the most successful single-day use of Instagram on campus to date.
Dragons Meet the Dinosaur
The competition ended with a social at Drexel's Academy of Natural Sciences, where students hobnobbed with the famed Tyrannosaurus rex — among other notable dinosaurs — while two large LCD screens displayed each team's Instagram photos.
This year's New Student Days events were spearheaded by LeBow's Undergraduate Advising Office, with Undergraduate Program staffers Lisa Feden and Jackie McCurdy taking the reigns to coordinate the Amazing Race. In addition, Interim Dean Frank Linnehan, as well as an assortment of faculty and staff and notable alumni, attended the Academy event.
True Engagement
"Watching the feed of Instagram photos at the Academy of Natural Sciences was entertaining," says Feden. "Students really embraced the opportunity to engage with us via social media and we hope this sets the tone for the rest of their freshman year and beyond. I wouldn't be surprised if students who participated in the scavenger hunt together remain friends throughout their Drexel careers. That was our goal."
Judging by the mosaic of images on Instagram, it appears that this new batch of hopeful freshmen are well on their way.
---
Instagram It!