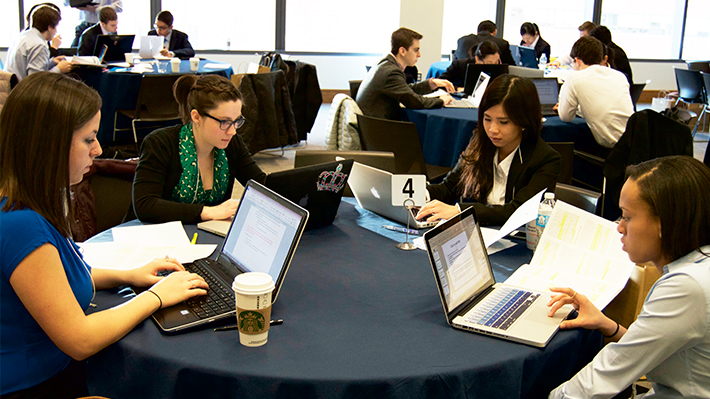 LeBow Holds FIC3 – Fraud Case Competition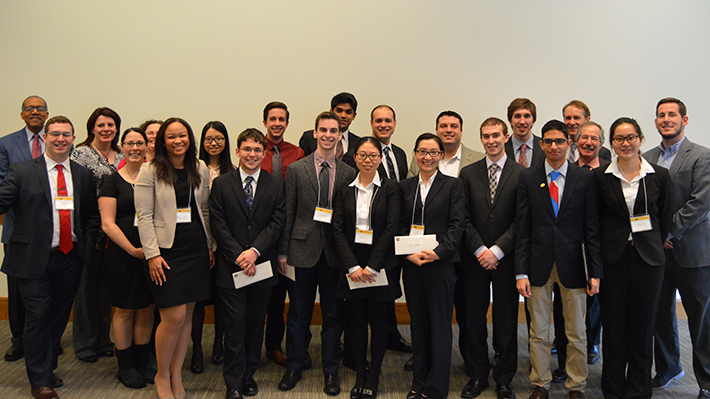 LeBow's Department of Accounting held an FIC3 (Fraud & Internal Control Case Competition) on Feb. 13. Sponsored by Mercadien, the competition sought to provide an experiential learning opportunity in which students could demonstrate their understanding of the accounting process, system of internal controls, implications of fraudulent financial reporting and the value and relevance of the COSO Internal Control Framework 2013 (which went into effect December 2014).
Jennifer Wright, clinical professor and assistant department head of accounting, says, "The case competition was a great way to give practical guidance and experience to our business students on fraud. In preparing for their team presentation, students delved into issues of fraud and fraud protection, and were able to have meaningful discussions with their professional coaches and judges."
The winners were as follows:
First Place (each team member won $125) "The Bottom Line": Jin Li, Wanzhou Xu, Justin Maslin, and Brandon Marder
Second place (each team member won $75) "The A-Team": Michael Doto, Anas Baghdadi, Yiting Yang, Zachary Henrich
Third place (each team member won $50) "WAM": Wesley Rickels, Matthew Saldanha, Andrew Figueroa, and Yindan Wang
The Department of Accounting wishes to thank the judges and coaches who volunteered their time to make this event successful:
Judges Jay Bornstein, Partner Ernst & Young (retired) Frank Pina, Managing Director at The Mercadien Group / Principal at Mercadien, P.C., Certified Public Accountants Theresa Donnelly, Manager Anti-Money Laundering (AML) Consulting Deloitte Transactions and Business Analytics LLP Schuyler Simms, Senior Technical Manager of Professional Practice at The Center for Audit Quality Elizabeth Pilacik, Audit Director, BDO USA, LLP
Coaches Jarrett Shook, Senior Manager Internal Audit QVC Matt Dugan, Senior in Forensics Practice PWC Joe Golden, Owner J. Golden & Associates David Small, VP & Chief Audit Officer the Children's Hospital of Philadelphia Jacquie King, Director Forensics Practice KPMG
This event was the first FIC3 at LeBow, but the Department of Accounting hopes to make it an annual event.