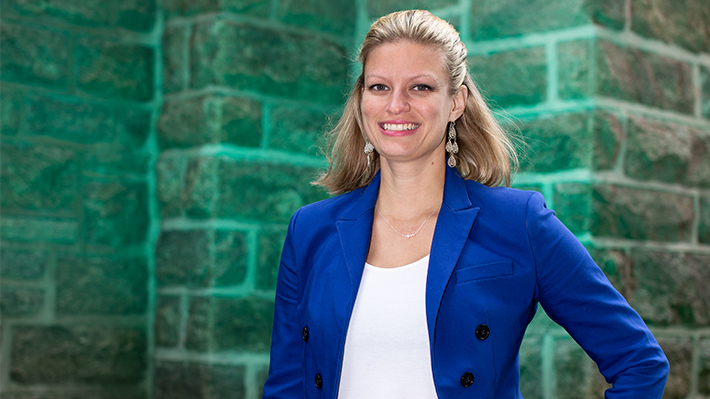 A LeBow PhD Student's Breakout Paper on Faith and Consumer Exercise Habits
This fall, Carissa Anthony, a PhD student in marketing, achieved an uncommon milestone: publishing an academic paper in a highly prestigious journal during her first year of doctoral studies.
Her paper, "Unleashing Heaven's Power: How Faith Motivates Consumer Exercise Behavior During a Pandemic" — co-authored with Elizabeth A. Minton, associate professor of business at the University of Wyoming, and Cindy Xin Wang, assistant professor of business at California Polytechnic State University, — was accepted to the Journal of the Association for Consumer Research (JACR) in September and will appear in print, as part of a dedicated COVID-19 "flash issue" of the journal, in January 2022.
Before entering the LeBow PhD program, Anthony earned an MBA with a concentration in marketing from Villanova University, an MS in financial services from Saint Joseph's University and a BS in economics, finance and business management from Bloomsburg University. She also worked in a variety of finance and marketing roles at companies such as Campbell Soup Company, Comcast and Vanguard.
We asked Anthony about the genesis for the paper, her interest in this cross-section of topics and how she plans to deepen her research as she progresses in LeBow's PhD program.
Q: It's exceptional for a first-year PhD student to publish in such a prestigious journal. What helped make this accomplishment possible?
Carissa Anthony: I had the honor of working with two exceptional co-authors who have expertise in religiosity (Elizabeth Minton) and power (Cindy Wang). I think what makes us a successful team is our ability to innovate and reformulate ideas together as we make sense of the data and its practical applicability to marketing. Elizabeth, the lead author, is extremely collaborative and did an excellent job leveraging all of our strengths. Above all, we respect one another's opinions, which drove healthy debates and led to better research ideas, and we are all really motivated to produce research that impacts well-being.
Q: When did you first become interested in these topics – religious faith, exercise and consumer behavior – and how have you approached them in your research?
CA: I was raised as a Christian, but I didn't personally experience a relationship with my faith until after I finished my undergraduate degree. There were a few triggers which made faith meaningful for me –traveling to Israel and seeing several historical sites, reading and understanding the Bible, and having several experiences which I could only explain as being divine – and my faith serves as one of the major lenses through which I view life. I was always interested in why people made decisions, and I recall growing this curiosity when I was studying economics in my undergraduate years.
After I met Elizabeth in 2018, our friendship immediately grew out of our common interests and similar personalities. She focuses her research on religiosity in consumer behavior, which made me curious as to how religiosity could be examined in relation to marketing. Earlier this year, before I started at Drexel, we were discussing different research ideas, and she invited me to join her and Cindy, whose research focuses on power in relation to consumer behavior, to work on a project together. Our collective observations of how people were coping differently in response to the pandemic inspired this project. We applied the assumptions of terror management theory to help us make sense of the positive versus negative coping behaviors we were seeing. Our findings revealed that more religious participants (whether through a measured religiosity index or primed in a religious condition in our experimental design) were more likely to engage in healthier coping methods (exercise perceptions and behavior) which was explained by an approach/action-oriented mindset. This implies that religious beliefs or thoughts can help consumers positively cope during the pandemic, a time when well-being is critical to preserve.
Q: Since starting in the PhD program at LeBow, how have you continued to explore these topics?
CA: With my co-authors, I'm participating in a free webinar hosted by JACR with other authors who produced research for this special COVID-19 issue on December 8 from 10 a.m.-12 p.m. EST. Based on this work we've done together, we submitted another paper on religiosity and mask-wearing attitudes in relation to retailer communications to another journal. I've also been spending time talking to Daniel Korschun, PhD, reading his work and learning about corporate social responsibility (CSR) in relation to marketing. I see broad intersections between the religiosity and CSR literature domains, but I'm very early in creating research ideas to further explore.
Q: Since the paper concerns life during a pandemic, what have the last eight months been like for you? Have you taken up any new hobbies or habits?
CA: First, I feel like the pandemic has really heightened the focus on the unpredictability of life. When you remove the routines and all of the "busy-ness," which can sometimes make us feel safe and secure, the uncertainty becomes clearer. For me, this insight has made me more intentional with investing in my relationships.
I've been spending lots of time with my dog, Mischa, experimenting with cooking new dishes for my boyfriend and our families (gazpacho and Bolognese with home-made pasta have been the best ones so far), learning to play chess, and working out more at home. I've always loved the outdoors, and my hiking frequency has definitely increased since the pandemic.
Lastly, I've just started the Marketing PhD program and never expected to be in a virtual environment when I was working through the application process. This has forced me to integrate technology into more aspects of my life, which I feel has improved my efficiency in a lot of areas. However, I do miss in-person interactions, and I feel more grateful for human connection.