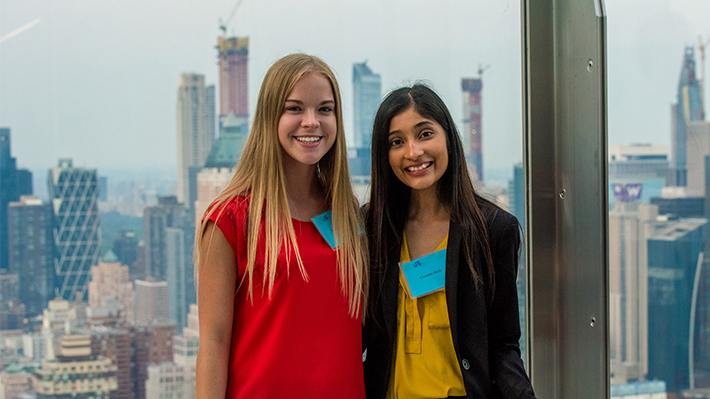 Marketing Students Get a High-Level View on NYC Trip
The participants in the August trip to New York City, organized by LeBow's Undergraduate Career Services, came away with new perspectives. The students, nearly all marketing majors, gained insights on potential career paths and entering the workforce, courtesy of several Drexel alumni, and they, along with the faculty and staff members who came along, saw New York City in a new way: from more than 50 stories up.
That high-level view came from a site visit to SAP, the second stop on a day that started with a jaunt through the teeming, modern workspaces at Google. Jamie Blomquist, a Class of 2009 graduate and a 2010 MBA graduate, led the students' tour through Google's largest office in New York City; the company also has offices in the Chelsea Market building, which it owns. Blomquist detailed her path to Google – completing an MBA to wait out the worst of the global recession, starting out in real estate, then working at an advertising agency – and explained her day-to-day work in Google's Sales and Consulting division.
Along the insights from Blomquist and several other current Google employees, the big draw for students was the bells and whistles of the offices. Some employees use scooters to get around the building, a former New York Port Authority building near the High Line, which encompasses a full city block. The offices are filled with kitchens, breakrooms, exercise facilities and other perks that have made Google one of the most desirable places to work for young college graduates of all backgrounds and majors.
After departing Google, it was a short bus ride north to the Hudson Yards complex on Manhattan's West Side for a tour of SAP's Leonardo Center, including the Next-Gen Lab, an incubator space for collaborators and community partners with the company's advanced technology offerings front and center.
SAP was already familiar to a number of students on the trip who had previously worked on co-op at SAP's offices in Newtown Square, and the site visit also served as a preview of another Next-Gen Lab that will open this fall as part of LeBow's Center for Business Analytics.
Mark Santerian, a class of 2015 graduate and a senior account manager at SAP, detailed not only his path to his current job but also the importance of building connections through networking and co-op employment. Based in Philadelphia but with clients based all over the Northeast, Santerian hopes to build even stronger ties between his company and LeBow and among Drexel alumni working there.
For Stephanie Arredondo, a junior marketing and business analytics major, the highlight of the trip was the technology on display at SAP and learning about the ways it's being used to improve customer experience. "It was great to learn firsthand the innovative technologies SAP has developed utilizing machine learning, advanced analytics, VR and more," she says.
The tour of SAP transitioned into a networking event with Drexel alumni, with the outdoor terrace on the 52nd floor becoming a popular spot for photos. Some of those shots will soon grace students' LinkedIn profiles – another step in the networking and job-search process.