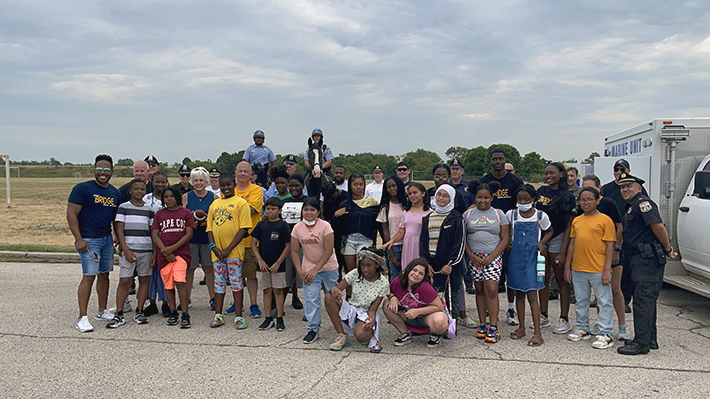 Middle School Students Learn Life Skills and Develop Relationships at Building BRIDGEs Camp
West Philadelphia middle school students got over their nerves and put their newly learned presentation skills to use on Friday, Aug. 5, in front of their families, LeBow College of Business and Drexel Police staff, Families Behind the Badge Children's Foundation and the Cohen Family Foundation members, and the college students from LeBow's BRIDGE program who had mentored them through two weeks of camp.
The apps the students designed ranged from creative, one featured drawing lessons and another helped users create custom jewelry, to helpful, with one app allowing residents to search for local crime and another that aids parents in school research.
LeBow's Building BRIDGEs Camp, free to rising 5th through 7th graders in the West Philadelphia area thanks to support from the Families Behind the Badge and Cohen Family Foundations, taught lessons in public speaking, financial literacy, team building and leadership. In addition to the LeBow BRIDGE students, some lessons were taught alongside Drexel police officers to strengthen relationships with local law enforcement and the communities they serve.
"The camp was designed to give black/brown students from area middle schools an intensive introduction into self-efficacy, critical thinking, motivation, social skills, physical fitness and creativity facilitated by local law enforcement practitioners and LeBow BRIDGE scholars," said Brian Ellis, PhD, associate dean for academic programs administration.
The camp was a natural fit for BRIDGE, whose mission is to Build Relationships in Diverse Group Experiences by developing student potential and preparing them for an ever-changing world. Nate Cohen '85, founder of the Cohen Family Foundation and longtime supporter of the BRIDGE program, was instrumental in turning the camp into a reality.
"I'm proud to help bring together Drexel's BRIDGE camp and the Families Behind the Badge Foundation to provide a rewarding experience for the children and foster healthy relationships with law enforcement," said Cohen.
Drexel Community Relations Officers Kim McClay and Thomas Cirone enjoyed the opportunity to participate. From helping with lessons and participating in friendly, but competitive, rounds of students versus staff dodgeball, it allowed them some time out of uniform and chance to get to know the students better. And it allowed the students to see a different side of the officers. "It lets them see us as people," said Officer McClay.
In addition to the classroom learning — it was summer camp, after all — students also had the chance for some fun. They attended a Phillies game, visited the Franklin Institute, went bowling and spent a day at Pennypack Park with a BBQ hosted by the Philadelphia Police.