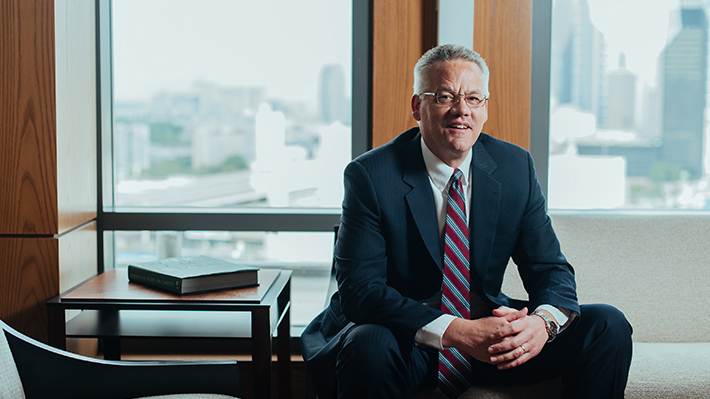 Paul E. Jensen Appointed Dean of Drexel LeBow
Paul E. Jensen, PhD, has been named Dean of Drexel University's LeBow College of Business. He had been serving in the role of Interim Dean since July 1.
Jensen, who joined the College's economics faculty in 1997, brings a wealth of experience in a variety of leadership and administrative roles at the University. During his tenure as interim dean, Jensen increased support for research and developed a strategic plan that leverages faculty research strengths and stronger industry relationships in a business solutions context. His plan to bolster interdisciplinary curricula will prepare LeBow students for success in a rapidly changing economy.
"I am thrilled to have the opportunity to lead LeBow College of Business during this very exciting time for business education," says Jensen. "As technological disruptions are transforming business and society at a pace that is unprecedented, and companies are having to rethink their business models and address significant talent gaps, colleges and universities need to evolve to help fill these gaps and offer solutions."
Jensen points out that Drexel is one of the only comprehensive national research co-op universities in the center of a major metropolitan area. "As such, we are well-positioned to create a new model for higher education that prepares our students for the jobs of the future and provides industry with the R&D and talent pipelines that they need."
He adds, "I look forward to working with LeBow's amazing faculty and staff to ensure the academic experience at LeBow sets our students up for success."
Prior to his academic career, Jensen worked as an engineer in the power generation division of General Electric. He received his bachelor of arts in economics and a bachelor of science in mechanical engineering from Syracuse University, and a doctorate in economics from Pennsylvania State University.