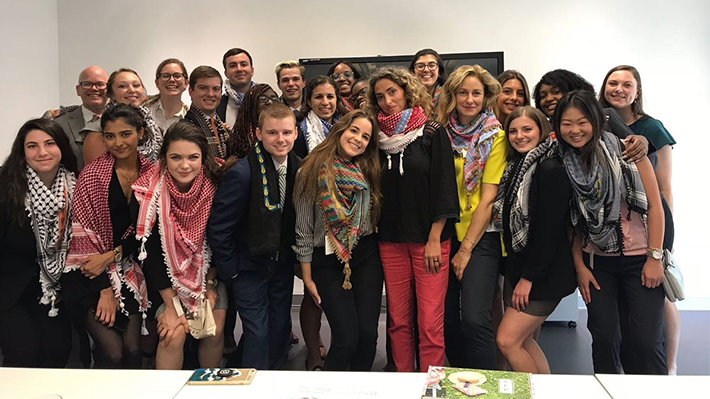 Students Stitch Together Solutions During International Residency
For SEP Jordan, a social impact-oriented fashion design company, their tagline "Every Stitch Tells a Story" hints at their deeper mission: bringing thousands of female refugees above the poverty line by providing employment opportunities. As part of the summer 2018 international consulting residency course, nineteen undergraduate students from LeBow, the Westphal College of Arts and Design and the College of Computing and Informatics developed business solutions to support SEP Jordan's mission and added their stitch into the company's story.
Guided by Chris Finnin, clinical professor of general business, student teams conducted research, performed analysis and developed recommendations for SEP Jordan's social impact mission report, digital marketing strategy, website optimization and brand ambassador program. Finnin describes this course experience as "an opportunity for students to work closely with a client and provide real, actionable solutions to problems faced by global organizations today."
Part of providing solutions to an international organization includes taking a trip abroad. After working with SEP Jordan virtually for 10 weeks, the class traveled to London and Geneva for an international residency period. "This course helps you learn about the little things you don't learn in a normal class, like how to prepare for a business trip and how to manage work with fun when you visit exciting places," said Farha Jannat, a Management Information Systems and business analytics major.
In London, the group explored London Fashion Week, received a behind-the-scenes tour at Harrods and made connections between design history, Middle Eastern culture and SEP Jordan's products at the Leighton House Museum. The group then presented their recommendations to SEP Jordan CEO Roberta Ventura in Geneva.
As one of the presenters in Geneva, Ben Red, a marketing major, said this course has helped him to "expand my leadership skills, public speaking skills, and my experience as a creative marketer in ways that no other course at Drexel is able to offer at the undergraduate level." Ventura thanked the students for their "mind-blowing presentation focused on SEP's social impact and digital marketing strategy," and reported that the company has already begun to implement the students' recommendations.
Through this course, both the students and the company shared a positive experience learning about and working with one another. "This is by far the most fulfilling and meaningful learning experience I've had at Drexel," said Jannat.