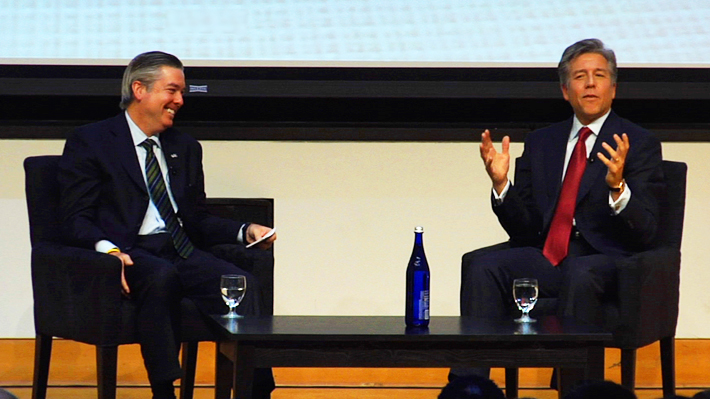 SAP Co-CEO Shares Knowledge at Drexel
On November 1, Drexel President John Fry hosted a casual fireside chat with Bill McDermott, co-CEO of SAP, a multinational software corporation that makes enterprise software to manage business operations and customer relations. The discussion, which was held in Bossone's McNeill Auditorium, covered topics such as the current job climate, qualities of leadership and the importance of innovation.
While McDermott painted a not-so-rosy-picture of the job market, saying that "70 percent of companies aren't doing anything right now," he also said that Drexel students are fortunate to have the co-op program, giving them a leg up on their competition. He complimented President Fry on the "intellect, creativity and passion of Drexel students that make Drexel a special place," pointing out that SAP has about 35 co-ops currently and has employed about 250 former students, whom he called "salt-of-the-earth people -- winners and fighters."
Some of the most interesting moments during the lively discussion were the many anecdotes McDermott shared about his early career, even before his days at Dowling College where he earned his bachelor's degree. As a teenager growing up on Long Island, McDermott established a variety of businesses always recognizing what the customers' wanted and delivering the kind of service they expected. He continually mentioned the importance of customer service and innovation.
"I always had the burn in me, to compete, to win," McDermott said. "I chose to do things that I do well often."
He offered this advice to the group of prospective business leaders: "Leaders need to hire people who have skill sets they don't have. Some leaders focus on weakness, looking for what's wrong with their subordinates. Find something great about that person and play to their strength. That's how you build a winning team. The true measure of a person is what they gave, not what they took."
Before the chat, Drexel LeBow Interim Dean Frank Linnehan, Ph.D., introduced Fry and McDermott to the predominantly Drexel LeBow audience. The university recently joined the SAP University Alliance, which enables students to learn and apply the enterprise application software in courses before graduation.
Student interested in learning more about courses utilizing SAP can contact rsw26@drexel.edu or call 215.895.2143.