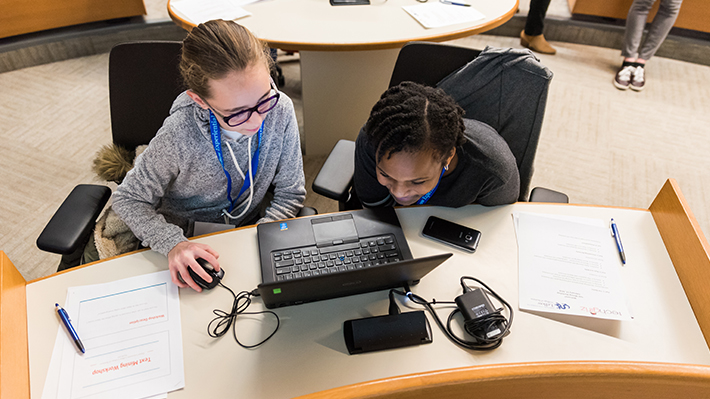 LeBow and TechGirlz Team to Inspire Girls Through Tech and Data
Despite their demonstrated abilities in STEM (science, technology, engineering and math) subjects, only 11 percent of teenage girls anticipate pursuing STEM careers, compared with 36 percent of teenage boys, according to a 2017 survey. For organizations and academic institutions alike, reducing the gender gap in STEM careers has become a key initiative – specifically, empowering future generations at a young age.
Drexel LeBow's Business Analytics Solutions Center welcomed 12 girls from middle schools within the greater Philadelphia area for a technology workshop about data and analytics – one of the College's prominent areas of expertise – delivered for TechGirlz.
Founded by LeBow alumna Tracey Welson-Rossman '88, TechGirlz empowers middle school girls to be future technology leaders through workshops, summer camps and initiatives that spotlight topics and career paths within the field. To date, the nonprofit organization has reached 10,000 girls through technology workshops across the nation.
Instructed by Murugan Anandarajan, PhD, professor of decision sciences and MIS; MS Business Analytics students Irina Nedelcu and Darshita Thakker; and Diana Jones, associate director for experiential learning, the workshop explored text mining – the process of analyzing words to discover patterns, obtain insights and support decision making.
The interactive three-hour session, held in Gerri C. LeBow Hall, focused on using text mining software to share information through visual word maps and 3D representations of data. The workshop incorporated how organizations such as Apple, Chick-Fil-A and Forever 21 use text data from customer reviews and social media to inform decisions.
Staying true to the university's roots in experiential learning, the girls completed hands-on activities to understand how to clean, analyze and communicate data. Participants worked in pairs, examining customer reviews of multiple music apps – Amazon Music, Spotify and Pandora – to analyze positive and negative sentiment. Based on their analysis of the data, the pairs determined which of the three apps they'd recommend to customers, then presented their decisions and analysis to the group.
By the end of the workshop, participants were able to analyze relationships between words, understand text data, identify emotions conveyed through text, and create visual maps to communicate relationships among words.
"As an MS Business Analytics candidate, it was a pleasure to interact with youthful students who have the potential to be great successors on the path we're currently walking on," said Thakker. "Their enthusiasm and eagerness to learn was inspiring."
"It was impressive to see such strong interest in technology at their age," said Nedelcu. "I hope this experience piqued those interests even more."
"Drexel has been an important part of TechGirlz growth," said Welson-Rossman. "The university's commitment to inspiring girls to explore all forms of technology is important to solve the lack of women in the industry."
The most recommended music app, based on the girls' analysis? Amazon Prime.