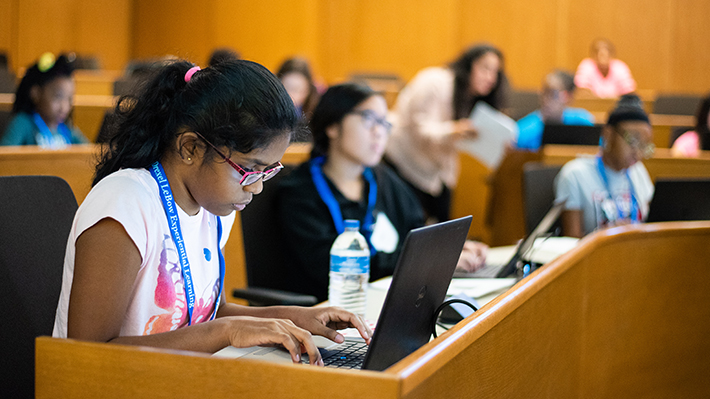 LeBow and TechGirlz Team to Teach Middle Schoolers Programming
From preparing a meal to opening the mail, most daily activities involve step-by-step processes that become habitual or repetitive. When paired with technology, those tasks can be automated through programming. Recently, a group of middle school girls came to LeBow to learn more about that process.
LeBow's Center for Business Analytics delivered its second technology workshop for TechGirlz as part of the organization's partnership with Drexel – an ongoing commitment to help educate middle school girls through technology. TechGirlz, founded by alumna Tracey Welson-Rossman '88, aims to inspire girls to explore the possibilities of technology to empower their future careers.
According to research conducted by Microsoft, more than 75 percent of girls feel empowered when participating in science, technology, engineering and mathematics (STEM) activities outside of the classroom, versus less than 50 percent for girls whose STEM exposure is limited to classroom activities. LeBow's workshop took place just as Drexel University was recognized by Forbes as one of 2018's top 25 STEM colleges in the United States.
Murugan Anandarajan, professor of MIS, and two students in LeBow's MS Business Analytics program, Darshita Thakker and Irina Nedelcu, instructed 15 girls from various schools in Philadelphia for a three-hour, hands-on session in Gerri C. LeBow Hall.
The girls learned the basics of programming: the concept of providing instructions to a machine in order to automate processes. With a handful of Legos, Anandarajan told the group, "Tell me how to build a tower on the floor." Participants instructed him to place a Lego on the floor, repeatedly adding one on top of another. Anandarajan complied, assembling an orderly structure.
"Now tell me how to build a tower as if I'm a robot." As he followed the same instructions, Legos chaotically dropped in all directions. A computer, he shared, needs to understand key concepts in order to function properly – in this case, the concept of gravity.
Instruction focused on Python, an open source programming language with an interactive shell. Students explored data types such as integers, floats and strings, tackled various programming puzzles, and ultimately learned how to translate a solution into a language that a computer can understand.
"It was a pleasure to teach girls who are passionate about technology," said Nedelcu. "We covered several concepts that would normally take more than one session to cover, but the girls picked up the information quickly."
"It's inspirational to see how enthusiastic and knowledgeable the girls already are," said Thakker. "Some use coding for school assignments, while others create their own video games. Each student has a great story to tell."