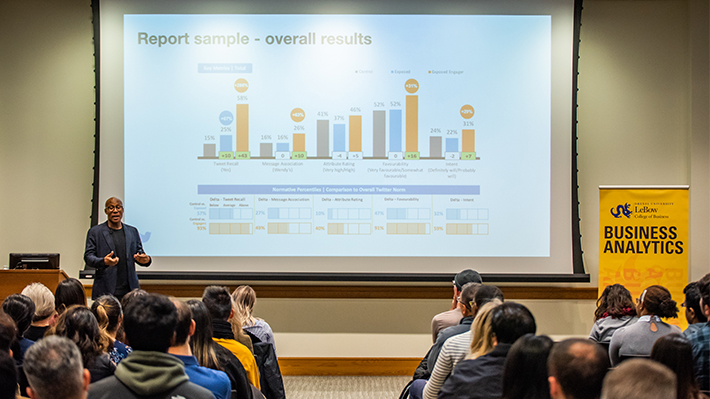 Twitter @ LeBow: How the Social Platform Uses Data
Drexel LeBow's Center for Business Analytics welcomed Nathaniel Greywoode, advanced analytics lead for Twitter, to share how the social media platform leverages data for decision making.
Part of a series highlighting practitioner expertise and thought leadership in analytics, the event represents the Center's focus on industry collaboration—a commitment to staying at the forefront of analytics knowledge and preparing students for forward-looking, data-driven roles.
From Twitter's New York office, Greywoode leads a team that performs and oversees extensive analytics, including digital and social channel measurement, to understand the value of tweets and user behavior. With more than 12 years of experience in marketing effectiveness and research, Greywoode's work spans a wide range of brands, products, markets and sectors, and he has helped the some of the world's biggest advertisers understand the performance of their activities and optimize their future deployments.
Speaking to an audience comprising Drexel students, alumni, faculty and guests, Greywoode shared examples of how Twitter uses data to help its clients optimize marketing budget allocation and to conduct techniques such as A/B testing, marketing mix modeling and multi-touch attribution.
He also shared his journey to Twitter, beginning with his first analytics project—building models for Universal Music Group—and spanning roles in marketing insights and advanced analytics across the U.K. and the U.S.
Greywoode also offered encouragement to students trying to determine their career trajectory.
"The best thing to do is follow what you enjoy and what you want to do," he said. "You'll end up in the right place."