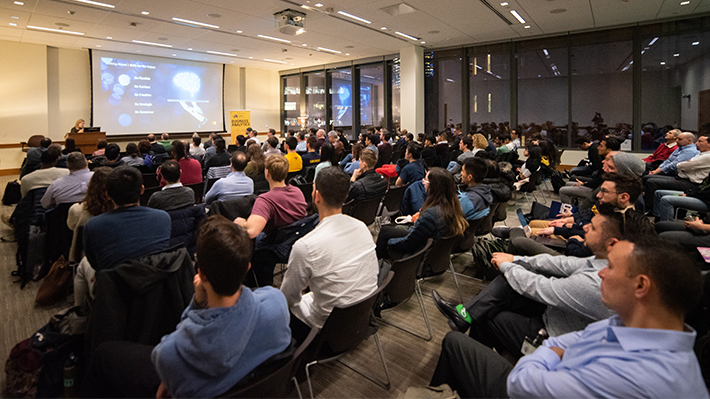 Beyond Payments: Insights from Mastercard's Chief Data Officer
JoAnn Stonier, Chief Data Officer (CDO) for Mastercard, visited Drexel LeBow to speak to students, alumni and guests from the Philadelphia analytics community about leveraging data for responsible innovation and organizational decision making. Offered by the Center for Business Analytics, the event was part of a series that highlights practitioner expertise and thought leadership across industries, preparing students for forward-looking, data-driven roles.
Mastercard is a technology company in the global payments industry, with a network that connects consumers, financial institutions, merchants, governments and businesses in more than 210 countries and territories. As CDO, Stonier is charged with assisting the organization to innovate with its data assets while navigating current and future data risks. Prior to her current role, she established the first privacy office for Mastercard and developed the company's information governance program. Stonier's position as CDO follows a multifaceted career trajectory, spanning roles in employment law, design, data operations and data governance. Before joining Mastercard, she was the Chief Privacy Officer for American Express Company.
Stonier discussed Mastercard's expanding data profile and shared its Data Responsibility Imperative, including a commitment to NextGen data practices such as privacy and security, transparency and control for individuals, accountability, integrity, innovation and using data for social impact. Emphasizing critical skills for the workforce, Stonier advised future analytics professionals to be flexible, curious, creative, strategic and generous. "So many people are so afraid of losing," she said. "The only way to win is to ask, 'what can I do for you?' When you do that, you get so much back. Be generous."