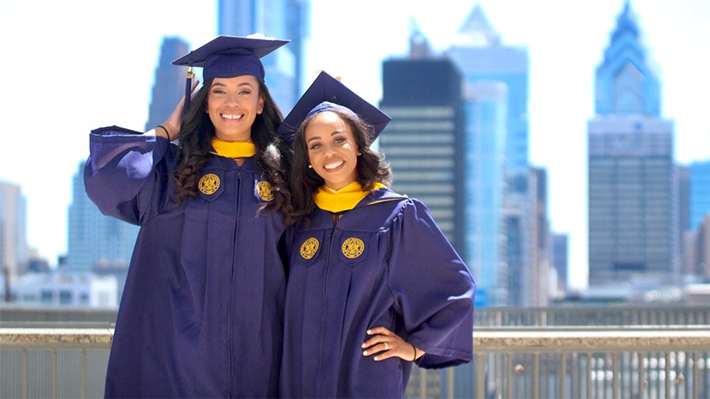 Uncovering Black Contributions to Business and Culture
Yasmeen Mayes '18, program manager in LeBow's Office of Engagement, has set out to make this year's observation of Black History Month into a series of lasting lessons.
Along with friend and fellow alumna Natalie Jenkins '17, she has launched The Chronicles of Black History and Culture, a writing and history project hosted on the online publishing platform Medium. The two kicked off the series on February 1, with topics including "Black in Business: The Unstoppable Rise of Two Entrepreneurs Who Made History," and "Closing the Opportunity Gap: A Former Microsoft Employee Ushers in a New Era for Diversity and Inclusion in Tech," both of which highlight past, present and future business and economic contributions by the Black community.
Mayes, who also serves on LeBow's Diversity, Equity and Inclusion Action Group, and Jenkins shared with us the project's origins and their hopes for the impact it will have throughout this month and beyond.
Q: Can you tell us more about the scope of this project?
Yasmeen Mayes: Throughout February, Natalie and I will be sharing a series of weekly essays that provide historical research on remarkable Black American figures and institutions whose successes are often routinely untold and overlooked. We will also be featuring profile stories based on our personal interviews with incredibly talented Black movers and shakers making history now!
Q: What was your motivation for sharing these stories?
YM: Last year, my sister gifted me a book called "Unseen: Unpublished Black History from the New York Times Archives." It's a beautiful book with an incredible collection of photos that reminded me about how we're routinely taught an abbreviated version of Black history, and it really inspired me to start this project during this year's Black History Month. It was a way to challenge myself to dig deeper and write about the many disregarded contributions Black Americans have made that make up America's story. It's a learning journey that I have committed myself to not just this month, but year-round, because I feel we have so much to be proud of.
Q: What has been your favorite story you've shared through this project so far?
Natalie Jenkins: I've loved everything about working on this project with Yasmeen! Learning about our past while igniting hope for what is to come in our future has been inspiring in more ways than I can count. My favorite part has been talking with people who are doing the work today. I feel empowered for what is to come and excited about the world that I will bring my future children into because I know people like them exist and are making society a better place for them. People like Anthony Clay and my cousin Anatole Jenkins, who were our first two features, give me confidence in what is to come in a world that can often feel overrun by hate.
Q: What do you hope people will take away from this project?
YM: Natalie and I hope our pieces of writing inform people on the wealth of talent and brilliance among Black people and share how our Black history makers stood up, spoke out and continued to press forward on the righteousness of justice. The Chronicles of Black History and Culture is a celebration of our past, present, and future and we hope it illuminates just how special our stories are.
Q: What does Black History Month mean to you?
NJ: When Black History Month was founded, it originally only lasted a week. Imagine that! Today, Black Americans are keenly aware of the need for Black history to be taught as part of American history, rather than being separated into a short period of time when it is spotlighted. Many of my peers feel slighted at this notion, and I sometimes feel slighted too, but to know that what began as seven days has grown to a full month opens my eyes to the possibility of continued growth. It makes me look forward to the day when Black voices and stories are shared all the time, not just for a few weeks out of the year. So to me, Black History is a track record for what is possible and what can be accomplished. I am proud to be a Black woman because of our history and what we have conquered.