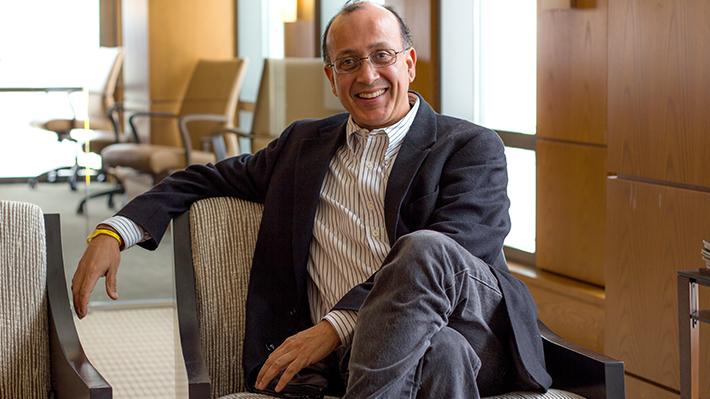 Vibhas Madan, PhD, Named LeBow Dean and R. John Chapel, Jr. Dean's Chair
Vibhas Madan, PhD, has been named dean of the Bennett S. LeBow College of Business and R. John Chapel, Jr. Dean's Chair. His appointment follows an internal search led by a cross-disciplinary committee of faculty, staff, students and alumni, chaired by chair Sharon Walker, PhD, dean of the College of Engineering.
As a professor of economics, founding director of the School of Economics and senior associate dean for academic programs before being appointed interim dean of LeBow in November 2019, Dean Madan has always stressed the importance of a holistic learning experience for his students, centered around integration of coursework and co-curricular programming.
"Under Dean Madan's leadership, LeBow has grown its portfolio of cross-college degree programs, seen exceptional growth in non-traditional programs such as the Executive DBA, increased engagement with alumni and advisory boards, and established a diversity, equity and inclusion action group to strengthen the College and ensure that it is an exemplar of an inclusive learning environment," said Drexel President John Fry.
Dean Madan joined Drexel in 1989, after completing his doctorate in economics at Michigan State University. He holds master's and bachelor's degrees in economics from the University of Delhi. With a focus on international trade theory as it impacts policy and multinational firms, Dean Madan has been widely published in academic journals, including the Canadian Journal of Economics, International Trade Journal, Journal of Quantitative Economics, Journal of Economic Integration and the Review of International Economics.
"I am really thrilled about continuing to work with the highly talented and dedicated LeBow community in building on our strong foundation in research and academic programs," said Dean Madan. "I am particularly excited about the prospect of creating innovative external partnerships that will fuel our growth and support our core academic mission."
As a respected teacher, Dean Madan has received several awards, including the College of Business Teaching Award and the Executive MBA Teaching Award. He also serves on the board of the Global Interdependence Center and, in his spare time, can be found strumming a guitar, listening to his favorite music by Bob Dylan or with a racquet in hand on a tennis court.