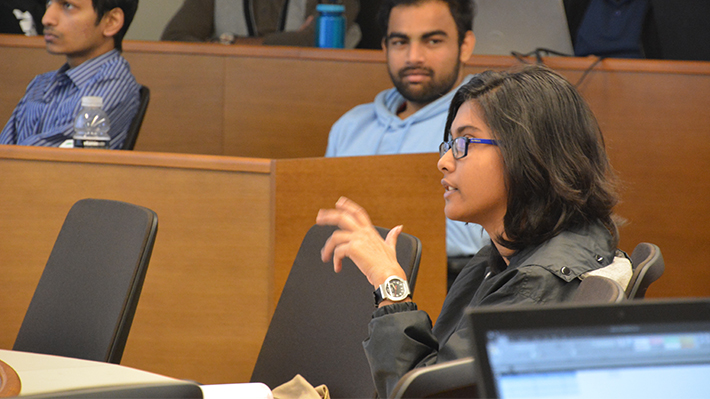 Why We Chose the MS in Economics
Vibhas Madan, PhD, director of LeBow's newly formed School of Economics, says LeBow's MS program, which focuses on industry and policy economics, "rounds out the comprehensive set of economics degree offerings already in place for our students, which include several options at the undergraduate level as well as a PhD program."
We talked to a few students about why they chose the MS in economics, and here's what they had to say:
"I have a master's degree in agricultural sciences with a concentration in agribusiness from Tennessee State University. Following the completion of my degree, I became extremely motivated to pursue a career in economics. I am particularly interested in economic growth and development. My passion stems from my experiences growing up in a developing country blessed with oil and a plethora of natural resources. However, the country is crippled with economic instability and high unemployment rates which hinder sustainable economic growth and development. I heard about LeBow's rigorous training in microeconomic theory, econometrics and application to policy issues, and I decided to make it my first choice for further graduate studies."
Brenna McGuire
"I have a double diploma from Reims University in France and ESB Reutlingen in Germany. I studied finance as an undergrad with a minor in economics so the interest in economics was always present and got stronger during my last year while writing a bachelor thesis on the comparison of Argentine currency policy during the 1990s and the Greek currency policy since entering the Economic and Monetary Union of the European Union.
"Besides being located in the great city of Philadelphia, I decided to apply to Drexel LeBow to exceed the boundaries of a particular job and geography while matching my academic interests and professional ambitions."
Damilola Giwa-Daramola (a native of Nigeria)
"While I was obtaining my undergraduate degree, I found that I had a passion for economics. My major has a strong economic base, which gave me the opportunity to find this passion. Economic problems are an ever-present and inherent part of our lives. I am attracted to studying economics because it is essential to understanding the world in which we live and work. An education in economics will equip me to participate more successfully in the increasingly knowledge-based and interdependent global economy of the twenty-first century.
"I am now very excited to continue growing my knowledge in the area of study that I enjoy the most. I am also excited for the career opportunities that will arise from furthering my education."