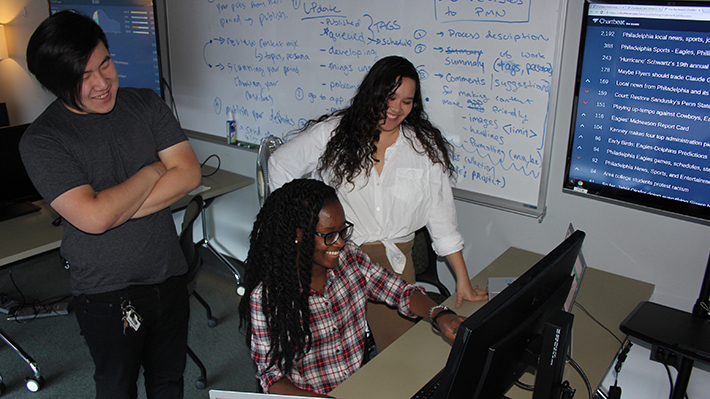 FollowPhilly: LeBow Students Millenialize Local Media
Traditional media in Philadelphia has had a rough year.
The closing of City Paper and major layoffs at online, print and television news outlets herald changes in the way millennials access and consume media.
To address this shifting landscape, Philadelphia Media Network (PMN), owners of Philly.com, Philadelphia Inquirer and Daily News, tapped a team of Drexel students and alumni to find new ways to engage local college students and young professionals with their content.
The result of their collaboration is FollowPhilly, an iPhone app designed to aggregate local news, curated specifically for 18 to 34 year olds. The app began the beta testing process in the fall term.
"We are focused on trying to understand how millennials engage with news, what are the trends, how has the industry evolved… and where is it going," said Julia Casciato, senior English major and associate project manager.
Casciato, former editor-in-chief of Drexel's student newspaper, is pursuing a minor in marketing and leads the team with support from Jordan Motzkin and 2012 LeBow graduate and digital entrepreneur Ari Winkleman.
The project began as a consulting course focused on determining the interests and needs of the target age group. From there, a smaller team took on the task of developing the technology to make the app a reality.
Marketing majors Zunteng Lin and Sarah Woode-Afiriyie joined Casciato and Winkleman as content curators in the fall. In this role they review the stories coming through the PMN network and decide which will appeal most to their target demographic. They then choose headlines and photos to go with each story on the app.
"Figuring out what people will want to read is more than just the topic of the story," said Woode-Afiriyie. "It's more about things like timing and tone."
Ultimately the team's goal for the app is to connect young Philadelphians with the city around them.
"Creating community," said Casciato. "That's much harder than just posting stories."