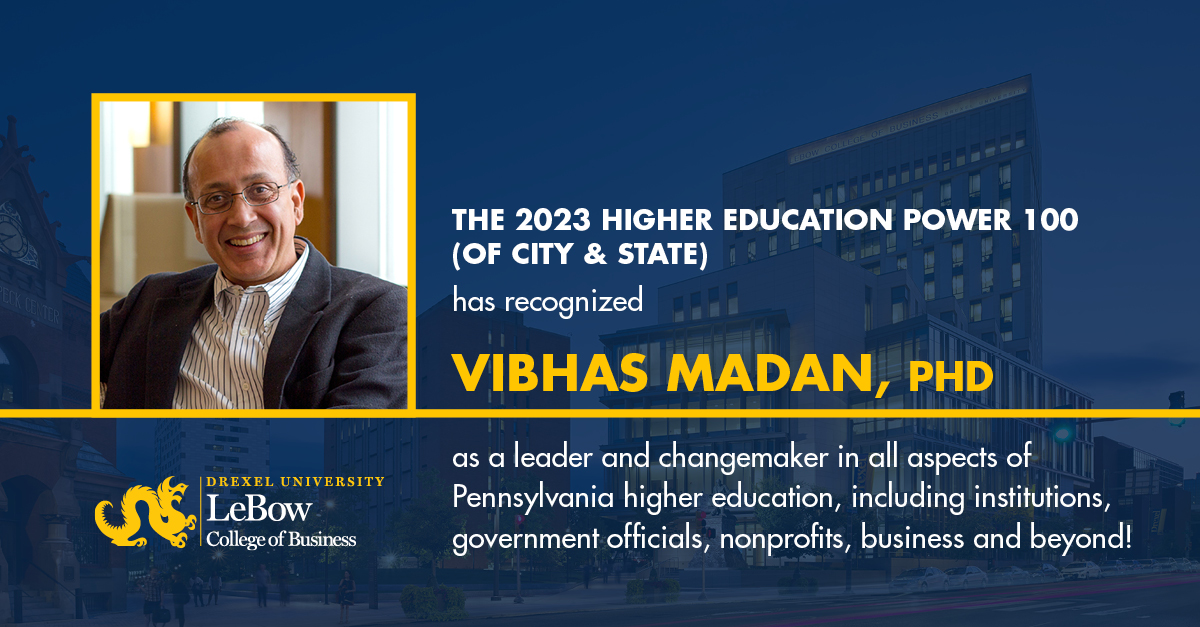 Dean Madan Named Among Pennsylvania's Top Higher Education Leaders
Dean and R. John Chapel Jr. Dean's Chair Vibhas Madan, PhD, has been named to City & State PA's 2023 Higher Education Power 100. The Higher Education Power 100 recognizes leaders and changemakers in all aspects of higher education, including institutions, government officials, nonprofits, business and beyond.
Dean Madan was named LeBow's dean in December 2020, after serving as interim dean since November 2019. Since then, Madan has worked to continue building LeBow's strong foundation in research and academic programs, focusing on improving student success, investing in research, elevating external relationships, advancing diversity, equity and inclusion, and diversifying revenue streams. Prior to becoming dean, Madan was a professor of economics, founding director of the School of Economics and senior associate dean for academic programs.
In naming Madan 33rd among its list of 100, City & State PA touted his long history at Drexel and his prioritization of diversity and inclusion. City & State profiled leaders that "have helped their institutions not just survive but thrive. Through innovation, experience and perseverance, they demonstrate on a daily basis why Pennsylvania continues to be a national locus for higher education."
Madan was featured alongside Drexel University President John Fry, who was named #2 on the 2023 list.
City & State PA is a nonpartisan news organization that dedicates its coverage to Pennsylvania's state and local government, including politics and public policy.