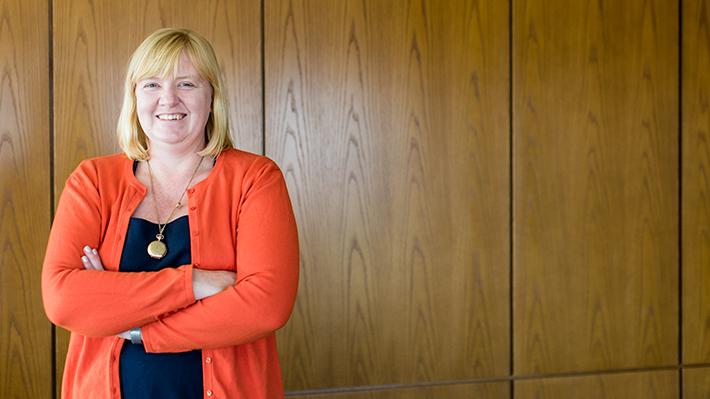 Advertising Industry Insights From LeBow's New Associate Dean for Research
Associate Professor of Marketing Elea Feit, PhD, has been appointed associate dean for research and will assume this new role starting Sept. 1. She has spent much of her career building connections between industry and academic research, and one of her latest publications in a top-tier marketing journal exemplifies this combination.
The findings in "Context Information Can Increase Revenue in Online Display Advertising Auctions: Evidence from a Policy Change," published in the Journal of Marketing Research, demonstrate value for both advertisers and those who study the advertising industry. Coauthored with Sila Ada, head of data science at Payla, and Nadia Abou Nabout, professor of interactive marketing and social media at Vienna University of Economics and Business, the paper analyzes the effects of a policy change at a major private advertising exchange in Europe, and Feit and her co-authors find that advertisers care whether their ads appear on one website versus another.
In 2016, in advance of the adoption of the General Data Protection Regulation, the law governing data protection and privacy in the European Union and the European Economic Area, the ad exchange decided to change the policy and provide advertisers with the subdomain where the ad would appear. They made this feature available to one advertiser for about a month and then rolled it out to all advertisers.
In a Pulse shared on LinkedIn in April, Feit outlines her findings, along with evidence from the study that goes against other academics who have argued that an advertiser should only care about who sees the ad and not about where they see it. Feit and her co-authors found that advertisers were willing to pay more for the right placement, and the impact that placement transparency is beneficial to both advertisers and publishers.
Feit's current research activities build on a long track record of academic-industry partnership. After starting her career as a research scientist at General Motors R&D, where a product design problem she worked on inspired her dissertation work at the University of Michigan, she served as executive director of Wharton Customer Analytics, where she built an innovative research program that allowed companies including Electronic Arts, USAA, Equifax, The Home Depot and URBN to pose data science challenges to the academic community. Her work at Wharton led to dozens of top-tier publications by faculty around the world.
She came to LeBow in 2014 to focus on her own research and has recently published papers on measuring individual consumers' response to ads and designing profit-maximizing A/B tests. She has also developed popular courses at LeBow on Data-Driven Digital Marketing and Marketing Experiments. She is associate editor at the Journal of Marketing Research, serves on the editorial boards for Marketing Science and Quantitative Marketing and Economics and is the co-author of the book "R for Marketing Research and Analytics."
She has been on leave from Drexel since fall 2021, working as a senior economist at Amazon Ads, but will return to Drexel this fall.