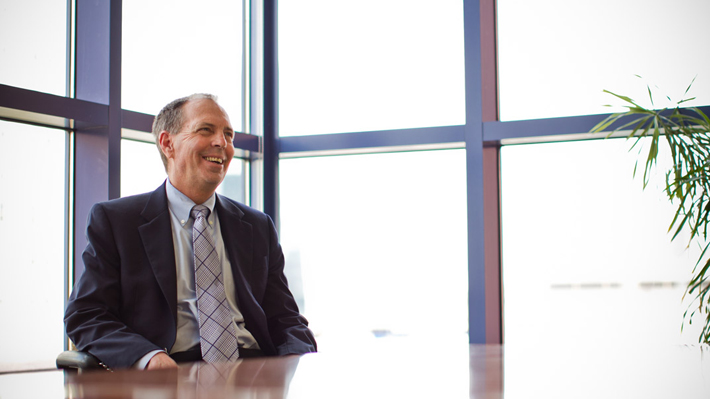 Experiencing Success: A Year of Continuous Improvement
The past year was one of both change and continuity for Drexel LeBow. The biggest change occurred in the dean's office, with George P. Tsetsekos, Ph.D., stepping down after 10 years at the helm. Our former dean remains with us as the George B. Francis Professor of Finance and the trajectory he established for LeBow College of Business continues to be realized through the achievements of 2012. Here are just a few highlights.
LeBow College again this year enrolled our most highly academically qualified freshman class ever, and the freshmen of previous years continued to impress. A team of four graduate students captured top honors in the Philadelphia ACG Cup for the second year in a row and a team of seven bested schools such as Johns Hopkins and the University of Chicago to bring home first place in the national Scholastic Achievement Award market research campaign competition. Drexel's chapter of the National Organization for Business and Engineering hosted this year's NOBE national conference and teams of students participated in our first-ever nonprofit case competition to grow North Philadelphia's Village of Arts and Humanities.
Our inaugural Finance Week (to be repeated Feb. 25 to March 1, 2013) included a poker tournament during which professors used the card game to explain finance concepts; visits to the Philadelphia Stock Exchange, New York Stock Exchange and Bloomberg; and designation of Randy Burkert '82 as LeBow's first Alumni Ambassador to Wall Street in recognition of his continuous efforts to assist students with placement opportunities.
Our faculty continued to attract attention and accolades. Jeffrey Greenhaus, Ph.D., the William A. Mackie Professor of Management, was ranked among the Top 35 most impactful management scholars worldwide by the journal Academy of Management Perspectives. Constantinos Syropoulos, Ph.D., Trustee Professor of International Economics, was rated among the top 5 percent of international economists in the world by the Research Division of the Federal Reserve Bank of St. Louis. Rankings by scholars listed Drexel LeBow among the top schools in the world in the fields of global finance, management, and international trade.
Research published by Daniel Korschun, assistant professor of marketing, was listed among the Top 50 articles worldwide by Emerald's Management Reviews, and research by Jonathan Ziegert, associate professor of management, received the Administrative Science Quarterly's Award for Scholarly Contribution, presented annually to the "most significant paper published in ASQ five years earlier." Gordian A. Ndubizu, Ph.D., professor of accounting, received the American Accounting Association's 2012 Outstanding International Accounting Educator Award for exceptional academic and professional achievements.
We also contributed to business scholarship of the future. Marina Puzakova, a 2012 Ph.D. graduate now on the faculty at Oregon State University, won Drexel's Outstanding Dissertation Award for the Social Sciences, and fourth-year marketing Ph.D. student Monique Bell won the university's Research Day Award in Business for her examination of the relationship among firms' organizational values, customer relationships and corporate reputation. Two of this year's seven Ph.D. graduates accepted positions at Pepperdine University in Malibu, Calif. Others are now teaching at University of the Pacific, Oregon State, Highpoint in North Carolina, Fucape Business School in Vitória, Brazil, and at West Chester.
Alumni achievements in 2012 are much too numerous to mention. Here are only two: AmyLynn Flood '01 and Steve Ward '03 were named to the Philadelphia Business Journal's list of 40 Under 40. Flood is a licensed Certified Public Accountant and a partner in PricewaterhouseCoopers' Global Human Resource Services Group. Ward is CEO of Master Matchmakers, a matchmaking service with more than 3,500 clients across the country, and host of two VH1 televisions shows. And Gina Altieri '83, vice president for corporate services at Nemours Alfred I. DuPont Hospital for Children, was listed among the newspaper's Women of Distinction.
But perhaps the biggest symbol of change and continuity is the 12-story tower rising at 32nd and Market streets. We held a topping out ceremony in August to celebrate placement of the final beam; that steel skeleton is now nearly covered by limestone and glass. We are on pace to begin holding classes in our new building beginning next fall. With this new building, our infrastructure will catch up to the quality of our teaching and research. We will also welcome a new dean in the coming year. All of this is made possible by your engagement with LeBow College of Business. Your time, expertise and dollars have propelled us into the top echelon of business education in America. With your continued support, there's no stopping us.
With all good wishes,
Frank Linnehan, Ph.D.
Interim Dean
Support Drexel LeBow
For those who may be considering an end-of-year philanthropic decision, please keep LeBow College of Business in mind.
Your gift can support the new building, or you can designate your contribution toward programs, scholarships or other needs.