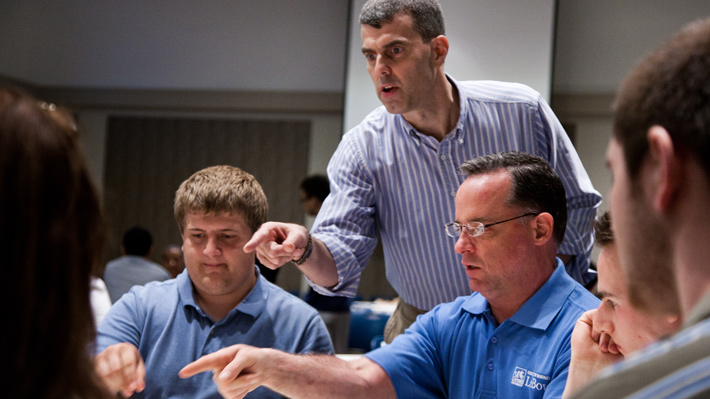 LeBow College Holds First Finance Week
LeBow College of Business held its inaugural Finance Week last week offering students a glimpse into the many opportunities in finance during the week-long series of workshops, programs and speakers.
On Monday, students interested in learning more about the CFA exam attended an information session hosted by Professor Diana Sandberg who covered strategies for taking the exam. A poker tournament was held Tuesday evening at Behrakis Hall, where Professors Ed Nelling and Erik Benrud walked from table to table explaining finance concepts as they related to poker. The winning poker players included Le Nguyen, Viet Phung and Dominique Magee, who took first, second and third place, respectively. Sig was the corporate sponsor of the event providing cards and other memorabilia.
Undergraduate students were invited to the Philadelphia Stock Exchange Wednesday evening to hobnob with area executives. Stephen T. Zarrilli, senior vice president and CFO of Safeguard Scientifics, delivered the keynote address, preceded by welcoming remarks made by Dan Carrigan, president of NASDAQ OMX Futures Exchange. 
Students hit the road on Thursday as they headed to the Big Apple for a tour of the New York Stock Exchange and a visit to Bloomberg. Dean Tsetsekos and Randy Burkert  '83 hosted a reception in the evening for attendees to meet area New York executives. Dean Tsetsekos made the opening remarks, preceded by a welcome made by Vincent Roth '99, MBA '02, vice president, Morgan Stanley Smith Barney.  
Finance Week culminated in a Trading Competition on campus. Students were welcomed by Doug Roman, managing director of PNC Advisers, who is a LeBow alumnus, and Dr. Michael Gombola, head of LeBow's finance department. The winners were Kaiqi Wei, Aurelie Beltrando and Norman Lane.