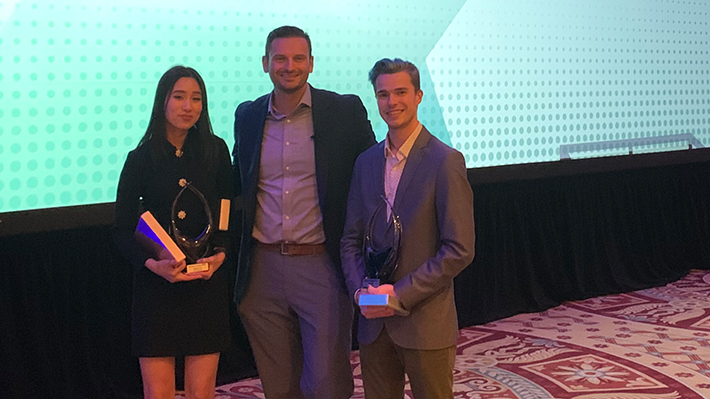 LeBow and Westphal Students Team Up to Craft Winning Campaign
A team of Drexel University students, including a LeBow undergraduate, won the Brand X Challenge experience design competition, held for the second time ever in spring 2019.
Benjamin Red, a junior from Devon, Pa. majoring in marketing, teamed up with Westphal College of Media, Arts & Design student Sabrina Tran on designing an experience-based campaign for Uber Health, a technology solution developed by rideshare company Uber within the healthcare space. The two shared the $5,000 top prize and received a trip to Las Vegas, including hotel and airfare, to attend the Event Marketing Conference.
Red and Tran's campaign for "The Healthiest City in America," with Uber drivers, health care providers and consumers all participating in a scavenger hunt across Philadelphia, placed them first, ahead of roughly 250 other teams, including finalists from the University of Pennsylvania's Wharton School and the University of California Berkeley.
"We didn't walk in expecting to win," Red says. "We were more in the mindset of, we're going to give it our all and we'll have a nice portfolio piece at the end of it. It ended up being way more than either of us could have imagined."
Red, who has had a goal of working in advertising for many years, started on this path with an internship at Philadelphia ad agency RedTettemer during high school, followed by co-ops at Razorfish Health, Publicis Health Media and FCB Health while at Drexel.
"I loved those co-ops, and I walked away with a lot of insights and knowledge from a top-down overview about how an advertising campaign has to work from a strategy and analytics perspective," he says.
Red also cited relevant experience from MGMT 380, the business consulting course taught by Clinical Professor of General Business Christopher Finnin. "I worked as a team lead and got a lot of client-facing interactions from that. That helped inform some of the communications and tactical execution we had to do for this."
Red said he and Tran – who had previously worked together on The Good Idea Fund, an outlet for creative campus events fueled by unspent student activity fees – didn't realize the magnitude of the competition when they signed up in late February. "They just send you two webinars and a creative brief – everything after that is on you," he explains. "We had to manage the whole project management part of it, the strategy, the analytics, the design… we had to operate as our own branding consultancy."
Their idea took shape in just over five weeks earlier this year: two weeks for storyboarding and ideation, another two on building design assets and a final push in the last week, putting together a pitch deck for submission.
After submitting their project in late April, there was little communication from the competition's organizers, experiential marketing agency MAS Event + Design and industry publication Event Marketer, until Tran received an email setting up a phone call. Hearing that they'd won, Red says, was "super validating. Going the extra mile and pushing to the end was really worth it."
The trip to Las Vegas, with the knowledge they had already won, became an opportunity for education and networking, including attending case studies by American Express, Bumble, Google and LL Bean.
After receiving the award, both students met two in-demand business leaders: he head of Uber Health and head of North America for Uber; following the award luncheon, Red and Tran were the ones everyone wanted to meet. "Everyone kept stopping us in the hall," Red recalls.
Having earned this win and continue to advance toward a career in advertising, Red says he's looking into starting his own branding company: "Now that I know I can operate at this level and impress these people, why wouldn't I go for it?"