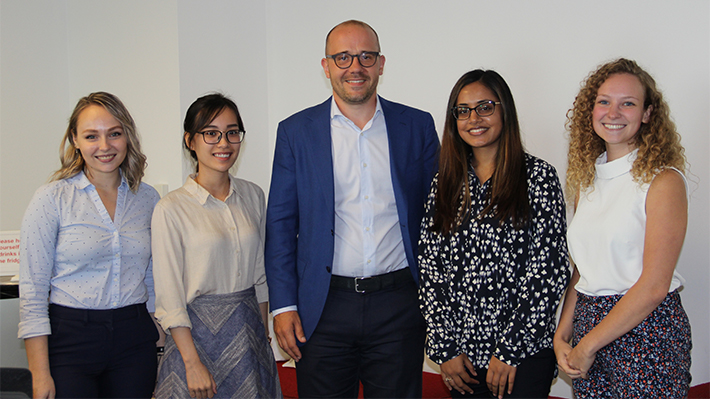 Soap, Science and Social Media: Keys to a Winning Social Media Campaign
What's the soundtrack to saving the world?
That's the heart of the creative approach a team of LeBow undergraduates took in winning the Global Marketing Challenge, sponsored by global hygiene product company Essity. Out of over 100 teams to submit their ideas for judging, LeBow's team won first place with their plan for a campaign to encourage handwashing, prevent disease and — eventually — save the world.
LeBow's winning team, the only one from an American university to take part in the competition, consisted of Wiktoria Brodzinska '20, marketing; Jasmine Pham '20, business analytics and marketing; Prajnika Chugh '20, marketing; Isabella Buchelt '20, business analytics and marketing; and Saloni Sanghvi, '19, marketing and technology innovation management. The team was coached by Lawrence Duke, clinical professor of marketing, and their participation was coordinated by LeBow's Dornsife Office for Experiential Learning.
Chugh, who served as team lead, says that the competition brought together LeBow marketing students who, in many cases, hadn't worked together previously. "I think we were able to learn a lot from each other and bounce ideas off of each other in order to come up with an innovative plan," she says.
Their plan centered around promoting thorough handwashing of at least 30 seconds, through a social media campaign featuring short videos and a Spotify playlist of half-minute clips. Chugh explains that part of the competition prompt focused on earned media (publicity gained through free promotion, as opposed to paid media). "We had to create a campaign that would go 'viral' but not need too much investment, which forced us to think outside of the box," she says. "We tried to build on some of the basics of handwashing, which is how we ended up with our '30 Seconds' idea, which then moved into a Spotify playlist and Instagram competition."
Team advisor Duke, who teaches courses in digital marketing at LeBow, says this group was one of most outstanding student groups he has advised. "I was amazed at how they were able to smoothly bring up different ideas, and everyone was a part of that," he says. "They were really self-motivated in meeting the deadline, and the finished product was outstanding."
The Spotify playlist meant to accompany handwashing struck Duke as especially astute. "Through that ritual, you're changing the behavior, and you're also bringing in the creativity of your target audience," he says.
Following their win, the team presented their ideas to senior managers at the company's Philadelphia office in August. "We had the opportunity to learn from a truly global company about some of the issues they see in their workplace," Chugh says. "This is the first time we've had the chance to represent the United States on a global scale, and we are so happy to have won!"