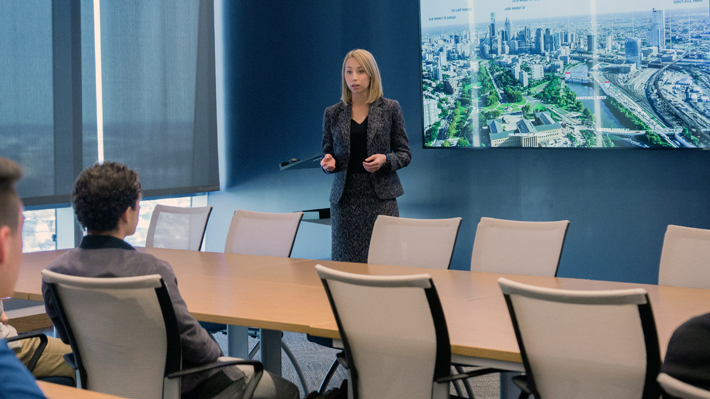 LeBow's REMD Program: Looking Into the Future From a Bird's Eye View
Standing atop the newest addition to the Philadelphia skyline isn't the worst place to consider your career options.
As part of the launch of the new Real Estate Management and Development (REMD) program, students received a 730-foot-high look at the future of the west side of the Schuylkill River.
Blocks away from the LeBow College of Business stands the newest addition to Philadelphia's growing skyline. At 28 stories, The FMC Tower is easily one of the most impressive buildings in University City, even though it boasts being its own "vertical neighborhood."
After catching their breath from the staggering views, the students received a grand introduction to the tower's amenities: a private theater with reclining leather seats, 73 ft. heated lap pool, fully stocked fitness center overlooking the Schuylkill River and a golf simulation room. With 25,000 square feet of amenities alone, the FMC Tower is designed to be a place where tenants and visitors alike can work, live and entertain.
But the FMC Tower is just the tip of the iceberg in the big plans for the area.
Bethann Coradino, leasing representative for FMC Tower, provided the students with an overview of the development and the next steps in the process, including the green space under construction at One Drexel Plaza.
As part of the planned $3.5 billion Schuylkill Yards partnership between Drexel and Brandywine Realty Trust, the company in charge of the FMC Tower and Cira Center, the new park is one of the many real estate projects taking place in and around campus.
"It's an 'if you build it, they will come' scenario," said Coradino. "There's a huge workforce in the area, so there's certainly a demand for development."
And with room for development comes room for employment, according to James Korman, president of Korman Residential Properties and member of the Real Estate Management and Development Advisory Council.
Korman described the addition of the REMD program to LeBow as a "natural fit," stating, "There are so many tie-ins. We're really looking for students who have a hunger and love of numbers."
With the first confirmed majors already enrolled in the Bachelor of Science in Business Administration program and a few dozen signed-up for the Real Estate 110 introduction course, students are already mulling over a future in the growing industry.
Grace Petronglo, a sophomore finance major who already signed up for the REMD minor, chose the minor to differentiate herself from her peers. "It really sets you apart," she said. "It's great to hear they are looking for younger people."
Students have an option to major in the program alone, but were also advised to take advantage of the opportunity to combine the major with other programs such as finance. Panelist Miles Orth, executive vice president and chief operating officer of Campus Apartments, advises that whichever road students follow, "sometimes you have to go with your gut and let it play out."