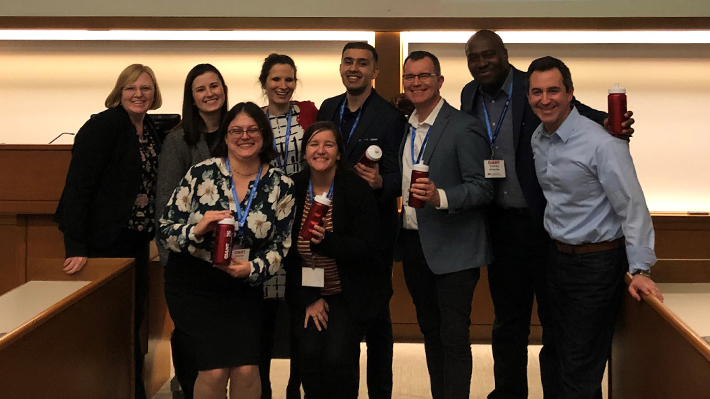 Real-Time Solutions for a Marketing Crisis
A whistleblower reveals problems with the supplier of a major grocery store chain, leading to a potential financial fallout as competing stores try to leverage the situation to their advantage. To make matters worse, a rogue employee has cancelled a multi-million-dollar advertising campaign — without proper approval — in the hopes of defusing press coverage.
That's the hypothetical scenario that LeBow graduate students faced as part of the second annual Marketing Crisis Challenge. Thirty-six students across seven graduate programs drew from their coursework to take charge of the PR crisis.
The competition, sponsored by the GIANT Company (formerly Giant Food Stores) and delivered in collaboration with LeBow's Dornsife Office for Experiential Learning, involved a scenario centered on apples, as the company's apple supplier came under fire before the launch of a major autumn-themed advertising campaign.
Out of six competing teams, the winning group, comprising MBA students Amanda Myrkalo, Marianna Tretiak, Opaluwa Alexander and Jason McMurtrie, and graduate marketing students Kimberly Schmidt and Safwan Khalid, put forth a three-part strategy: reacting to the crisis with an apology, fixing the problem by acquiring new vendors and then finally moving on from the situation by emphasizing the quality of its local produce.
Schmidt said she applied lessons from her MKTG 630 Global Marketing course about the importance of choosing the right companies when moving into international markets.
"The same applies when choosing vendors or partners in any capacity," she says. "The scenario really demonstrated what important roles trust and transparency play in business partnerships."
McMurtrie, a first-year MBA student, drew on coursework from MGMT 510 Business Problem Solving.
"Our team took time to consider all of the stakeholders and frames that were relevant to the crisis scenario." he said. "We looked at the numbers and potential financial impact, in addition to addressing concerns related to reputation and public standing and incorporated all of these considerations into crafting our response."
Representing GIANT were Matt Simon, Vice President, Marketing & Urban Retail; and Ashley Flower, Manager, Public Relations, who served as judges for the competition, along with LeBow Assistant Professor of Marketing Elea Feit, PhD.
"The students were curious, passionate and incredibly thoughtful in coming up with their response plans for our hypothetical crisis," said Simon. "Watching them engage with one another as they apply their critical thinking skills and classroom learnings during this daylong – and optional – exercise is a testament to the faculty, staff and curriculum of LeBow as well as the caliber of the students."