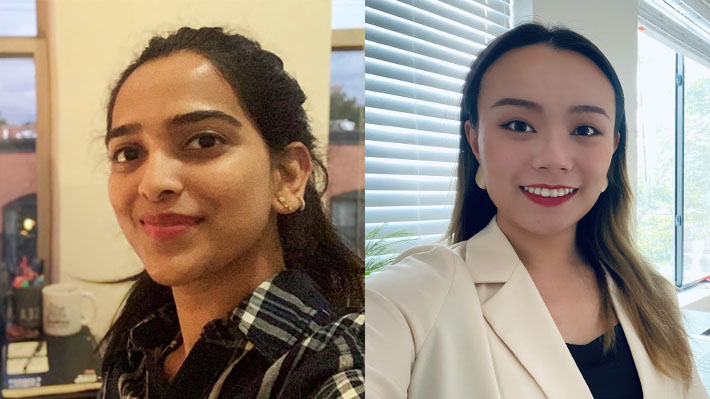 Two MS Business Analytics Students Share Vanguard Internship Experiences
Aishwarya Reddy Toom '21 and Yue (Alex) Fu '21 secured full-time internships this summer at The Vanguard Group, an investment advising group based in Malvern, Pennsylvania. Alex and Aishwarya have gone on to extend their internship into the fall on a part-time basis. Read on to learn more and to view videos from Alex and Aishwarya about their experiences this summer.
Aishwarya Reddy Toom '21
Aishwarya Reddy Toom has always had a fascination with data. After completing her Bachelor of Engineering in Computer Science from Osmania University in India, Aishwarya worked as a software developer for NCR Corporation in Hyderabad, India. Her continued interest in data pushed her to pursue her master's degree.
"With a diverse set of course offerings, hands-on collaborative learning experiences and opportunities to network with some of the smartest minds, I knew Drexel LeBow's Master's in Business Analytics would help me achieve my career goals," says Aishwarya.
Crucial to taking the next steps in her career was securing a data engineering internship opportunity at Vanguard. "Working with Vanguard felt like being part of a family," says Aishwarya. Her team showed her support throughout her experience, offering their assistance with ongoing projects as well as general career advice, which provided Aishwarya with opportunities for personal and professional development. Aishwarya's mentors not only helped her understand technical aspects of the job, but also, the innerworkings of the organization.
"Starting an internship role during this pandemic is a challenge, and Aishwarya has done a great job in her project deliveries and networking with business leaders," says Alavandar Chennakesavan, Aishwarya's supervisor and senior manager of the IIG Data Engineering and Analytics Team. "She has excellent communication skills and an appetite to learn new coding techniques. Her teamwork and dedication have helped us deliver projects on time. We are thrilled to have Aishwarya as part of our organization!"
Watch Aishwarya's video about her internship experience.
Yue (Alex) Fu '21
Yue (Alex) Fu is passionate about solving real-world business problems. After completing her Bachelor of Science in Astronomy at Beijing Normal University in China, she knew she wanted to find a graduate program that would connect her directly with industry and provide her with opportunities to demonstrate her knowledge beyond the classroom.
"When applying to Drexel, I had the chance to speak to several faculty members, including Murugan Anandarajan, PhD, [interim associate dean of academic affairs and programs]," says Fu. "What really made an impact on me was hearing Dr. Anandarajan emphasize that at LeBow, faculty and staff are focused on helping students develop not only academically but professionally through real-life application and career development. At that moment, I knew I wanted to be a Drexel Dragon!"
Alex's time on Vanguard's IIG Data Science team was exactly the opportunity she hoped for when she first enrolled. Through direct experience addressing client needs, she was pushed to make decisions informed by data and gained exposure to analyzing various types of data sets, including report documents, client information, communication records and public data.
"During her internship, Alex demonstrated a lot of curiosity and learning agility," said Ying Sun, senior manager of the IIG Data Science Team and Alex's supervisor. "She also contributed to and influenced an environment of collaboration, inclusion and belonging. The most impressive of her traits is that she proactively searches for solutions and takes accountability for her commitments. We are very happy to have Alex on our team!"
Watch Alex's video about her internship experience.
Vanguard plans to continue with their internship program for MS Business Analytics students at LeBow for summer 2021. For more information, contact Kelly Deily, associate director of MBA/MS career services and career advisor to the MS Business Analytics students. To learn more about LeBow's MS Business Analytics program, contact Kate Sonstein, associate director of graduate recruitment and admissions.