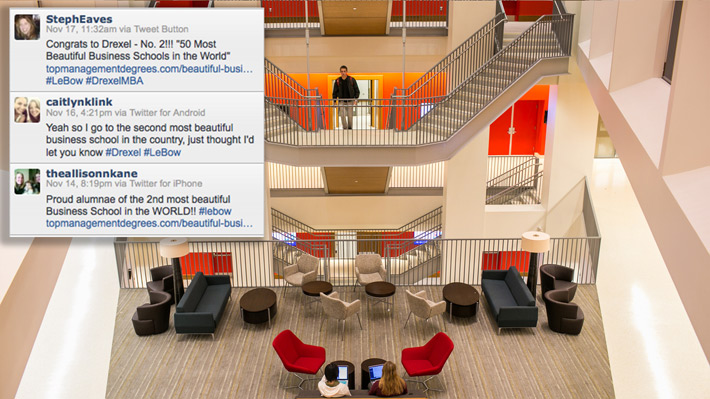 Website Ranks Drexel LeBow Second Most Beautiful Business School in the World
Drexel LeBow has been named the second most beautiful business school in the world by TopManagementDegrees.com's "50 Most Beautiful Business Schools in the World" ranking.
The site focused its praise on the recently opened Gerri C. LeBow Hall, which beat out Harvard Business School (#3), University at Albany School of Business (#4) and Penn State's Smeal College of Business (#7), as well as London's Imperial College Business School (#48) and Royal Melbourne Institute of Technology College of Business (#33).
Gerri C. LeBow Hall, the new home for the LeBow College of Business at Drexel University, is a vision in glass and warm masonry. Its design came courtesy of New York's Robert A. M. Stern Architects and Philadelphia-based Voith & Mactavish Architects, who worked together to produce a building that acts as a landmark for the College of Business. TopManagementDegrees.com
Since its release, the online rankling has been shared more than 10,000 times globally on Facebook alone, while here on campus, students have been quick to tweet and post accolades for LeBow's recognition.
"This ranking certainly wasn't on our radar," Mark Eyerly, LeBow's executive director of communications, said. "But we are certainly gratified by the recognition, especially the outpouring of pride from Drexel students. This is another example of Drexel's rise up the global stage and we are proud to see the accolades continue to roll in."
---
TopManagmentDegrees.com is an online guide to the best management degree programs. The website employs publicly available data from the National Center for Education Statistics and accounts for each school's accreditation, reputation, cost, and performance.