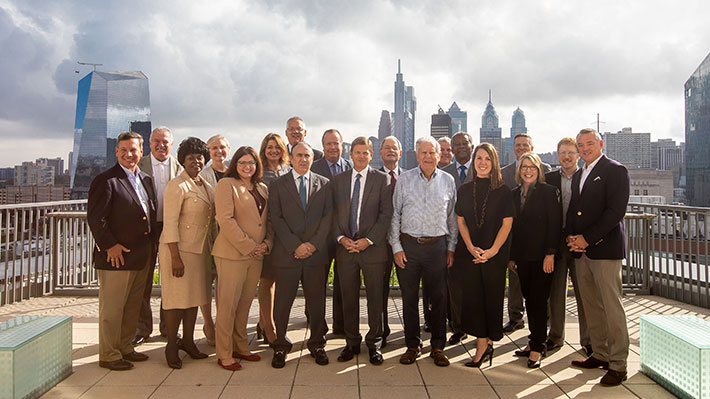 The Dean's Advisory Board is composed of exceptional business leaders who are committed to advancing the LeBow College of Business. Members provide strategic input regarding the College's mission, goals and initiatives, share insights regarding industry trends and developments, provide philanthropic support and promote the College in the business community.
Officers
Alfred F. Altomari '82 (Chair)
President and CEO
Agile Therapeutics, Inc.
Beth Bunting MBA '02 (Vice Chair)
Vice President Executive Search and Talent Management
Comcast Corporation
Mark McAdoo '87 (Vice Chair)
Founder and CEO
SourcEdge Solutions
David R. Geltzer '77 (Immediate Past Chair)
Founder/Director
Geltzer Family Foundation
Members
Kenneth J. Adelberg '76
Michael Angelos '11
Vice President, Consumer and Investment Management Division
Goldman Sachs
Charles Bancroft '82
Chief Financial Officer and Head of Global Business Operations
Bristol-Myers Squibb
Ken Barnes MBA '11
President and CEO
Options for All
Donald R. Braun, Jr. '84
Managing Director
Bernstein Private Wealth
Randall S. Burkert '82
Managing Partner and Co-Founder
Mercer+Bond Capital, A Quadrant Company
Mary Caraccioli MBA '08
Chief Communications Officer
Central Park Conservancy
Dominic J. Caruso '80
Retired Executive Vice President and CFO
Johnson & Johnson
Hugh Chairnoff, PhD, '61
Managing Partner
SevenOaks Capital Associates, LLC.
Kathleen P. Chimicles '83
President and CEO
GlenDevon Group, Inc.
Joel B. Cohen '54
President
Allflex Packaging Products
Gianna D'Angelo '89, MBA '93
President and CEO
GRD Consulting Corp
and
Former Principal
KPMG Advisory
Christine Dorfler MBA '09
CFO
National Football League
Angela Dowd-Burton '74, MBA '79
President and CEO
Dowd-Burton and Associates LLC
and
Senior Advisor
Econsult Solutions, Inc.
Bruce G. Fischer '77, MBA '83
Retired Senior Vice President
Sunoco, Inc. and Independent Business Consultant
Allan Frank
Partner and Chief Scientist
LiquidHub
Sean Gallagher '93
Founder and Chief Investment Officer
Connacht Asset Management
Wayne T. Gattinella '76
President and CEO
DoubleVerify
Elaine Goldwater MBA '04
Global Marketing Director Life Cycle Management
Merck & Co., Inc
Randolph Holmes III, CPCU, CLU '70
Retired Vice President
Prudential Financial
Kristen Knouft '93
Chief Marketing Officer
WizeHive
George F. Krall, Jr. '58
Former President and CEO
Mebane Packaging Group
Albert L. Lord III '89
Founder and CEO
Lexerd Capital Management
Patrick S. McGonigal, CPA '86
Chairman
Advanced Biomedical, Inc.
Drew Milstein '82
Director
Susquehanna International Group, LLP
Carlos Moreira '91
Partner
PricewaterhouseCoopers Advisory LLC
Paul Moul '71
Managing Consultant
P. Moul & Associates
David Penn '82
Senior Vice President, Wealth Management
Janney Montgomery Scott LLC
Derreck Robinson '93
Managing Director and National Sales Leader
Deloitte Consulting LLP
Vincent John Roth '02
Vice President and Senior Portfolio Advisor
Merrill Lynch Wealth Management
Stanley W. Silverman '69, MBA '74
Former President
PQ Corporation
Thomas E. Simonson '84
Chief Operating Officer
CFS2, Inc.
Andrew F. Tauber '90
Executive Vice President
Firstrust Bank
Brian Weddington, CFA '88
President and Chief Investment Officer
Katoma Partners
Paul B. Wieand, MBA '76
Chairman and Founder
The Center for Advanced Emotional Intelligence
Michael J. Williams '80, MBA '83
Chairman of the Board of Directors
Realogy Holdings Corporation