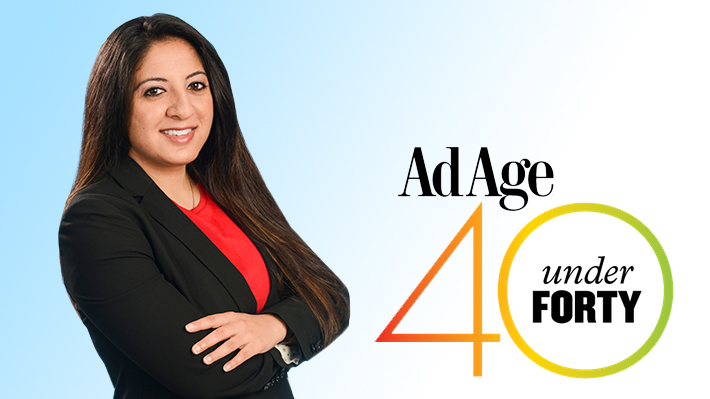 Alumna Named to Ad Age 40 Under 40
Shilpa Gadhok '07 was recently named among Ad Age's national list of 40 Under 40. She holds a BS in Finance and Marketing from LeBow.
During her time at LeBow, Gadhok completed a marketing analytics co-op at Fannie Mae in Washington, D.C. Also, during the summer of her junior year, she completed an internship at the Department of Homeland Security, also in Washington, D.C.
"This internship was one of my favorite experiences, partly due to the fact that it was a very critical and interesting time to be a part of the Department of Homeland Security in 2006, and also because I was able to ascertain the immediate impact my work was having on the public," says Gadhok. "At the office, we would be discussing policies that impacted the greater public. Then, after work, I would be at the gym watching C-SPAN on the monitors, and there would be the Secretary of DHS who we had met with earlier that day talking about the exact contents of our meeting."
After graduating in 2007, Gadhok decided to pursue a career in finance. She joined Lockheed Martin's Financial Leadership Development Program (FLDP), a three-year rotational program geared toward developing financial leaders within the company. She completed four rotations in three years involving roles in program finance, capital planning, overhead budget management and completed a yearlong international accounting assignment in Florida. "During that time, I realized that while I loved finance, I was missing the side of me that really loved creating, working with consumers, and managing the business as a whole."
Upon graduating from the FLDP program, she joined the Pricing and Proposals Strategy group at Lockheed, to help bridge the gap in marketing and the consumer experience. "In this role, I learned how to work collaboratively with multiple stakeholders and staff members, understand the different facets of the business, price a bid competitively, and negotiate the bid win for the company."
In 2011, she left Lockheed Martin and enrolled at the University of Chicago's Booth School of Business to complete her MBA in Marketing Management, Entrepreneurship, and Leadership/Organizational Behavior.
She was also accepted to participate in Procter & Gamble's (P&G) Brand Camp, a weeklong program that taught incoming MBAs what Brand Management was all about and P&G's approach to the practice. "I had no idea what brand management was at the time, and thought it was a good way to learn before I started at Booth. At the end of that week, I was fortunate to get an offer for an internship at P&G, and so between the first and second year of my MBA program, I interned for Pampers, working on a recommendation to help extend the Swaddlers line of diapers to larger sizes."
In 2013, she graduated from Chicago Booth and accepted an offer from P&G to become an associate brand manager for Pampers, where she continued to work on the company's portfolio of training pants, as well as with Braun electric shavers.
Last June, she decided to leave P&G to move a little closer to her family on the East Coast. She joined the Hershey Company as a senior associate brand manager for its Kit Kat brand. "This was a wonderful experience and such a fun and iconic brand to be a part of. My responsibilities included helping the brand to modernize itself with a young millennial and gen Z audience, and engage our consumers in a way that was most relevant to them. People don't want to be 'talked to'; instead, as a brand it's up to us to be part of the conversations they are already having, and fitting into their lives in meaningful ways."
In January of 2017, she was promoted to brand manager for barkTHINS - a snacking chocolate Gadhok says she is "in love with." She is responsible for helping build the brand's fundamental structure, launch its first major media campaign and help lead product innovation strategy.