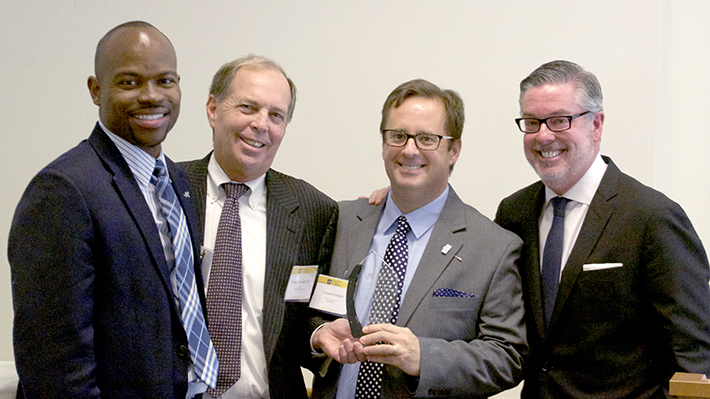 Saint-Gobain Wins LeBow's Social Impact Award
On Nov. 17, Drexel University President John Fry and LeBow College Dean Frank Linnehan, PhD, presented Saint-Gobain with the inaugural LeBow College of Business Social Impact Award during the College's Advisory Board and Councils Meeting. The award recognizes innovative companies that have made a positive impact on society through corporate social responsibility programs.
Saint-Gobain is one of the world's largest materials companies with over 350 years of history connecting the company to materials used in project ranging from the Louvre, Hall of Mirrors in in Versailles to the World Trade Center and Mars Rover. However, it is the company's commitment to science, technology, engineering and math (STEM) education that led Drexel to select Saint-Gobain for the award. The company, based in Malvern, has created partnerships with YouthBuild USA and US2020.
"Now more than ever, we must recognize organizations, whether public, private, educational or non-profit, that are improving the lives of community members, employees and making the world a better place for future generations," said Linnehan.
Since 2010, Saint-Gobain has granted $1.35 million to YouthBuild USA, educating more than 1,050 students nationwide on environmental issues and sustainable building practices. Locally, Saint-Gobain employees are committed to mentoring future generations to increase interest in STEM careers. They completed more than 1,500 hours volunteering with the YouthBuild Philadelphia Charter School, and employees share building science, engineering and math expertise with youth through Philadelphia's US2020 program.
"We believe we can do well by doing good and supporting nonprofits that share a commitment to community development, energy conservation and environmental stewardship is central to that belief," said John Crowe, President and CEO of Saint-Gobain. "Corporate social responsibility is not just a practice for Saint-Gobain, it's fundamental to our culture and employees at every level."
A tie between Saint-Gobain and LeBow seems to be a natural fit. According to Vice President of Communications Carmen Ferrigno, Saint-Gobain represents 15 generations of people solving unsolvable problems, and they are looking to Drexel to "help solve the next generation of unsolvable problems and train people to be leaders in areas that don't even exist yet."
The award was presented during a meeting that marked the first time advisory boards and councils from across the College came together at the same time. These board and council members offer important insights to keep LeBow relevant and up to date on innovation in the industry that affects the preparation provided to students.