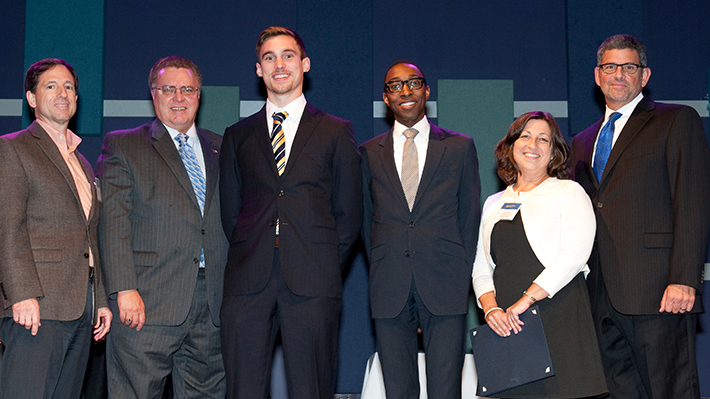 Three Tech Startups Win Space in Baiada Incubator
Star Drexel LeBow student David Hunt and his partner Jason Browne took top honors for their startup Spore at today's 2013 Laurence A. Baiada Institute for Entrepreneurship Incubator Competition. Spore is a solar battery charger that Hunt says is "affordable, scalable and adaptable." Drexel engineering co-op students will assemble the solar chargers at NextFab studio.
Hunt was also the student member of the winning Classroom Architech team. Last spring, he, along with professors Daniel Dorn and Ed Nelling, proposed the use of interactive videoconferencing to connect undergraduate managers of the $1 million Dragon Fund with professional investors. He also spoke on behalf of all Drexel LeBow students at last week's Gerri C. LeBow Hall building dedication.
Drexel LeBow student Benjamin Melman and his startup BookSmart took second place. BookSmart is a software system aimed at making the process of booking live concerts easier on promoters and agents.
LeBow alumni Chris Bennett and Oleksandr Levtchenko, along with College of Engineering alum Aradhya Malhotra, took third place for their startup, Skyless Game Studio LLC. Skyless is an independent video game development company that specializes in gamifying education and philanthropy. Its flagship product is an anti-corruption training simulation for international government agents.
All three winning teams scored designated space in the Baiada Incubator, as well as seed funding and a plethora of in-kind assistance to help take their startups to the next level.