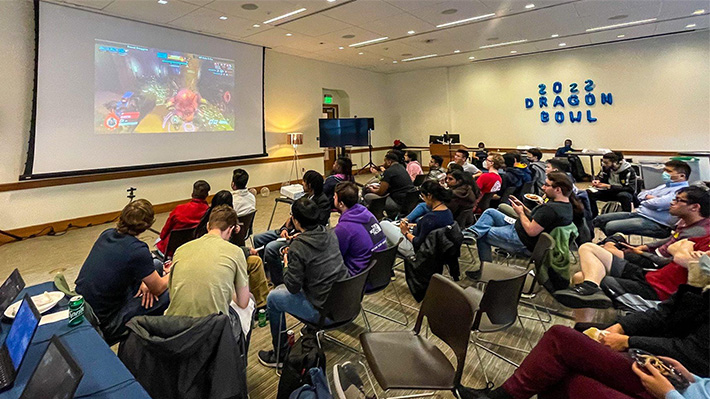 LeBow Hosts Inaugural Dragon Bowl Esports Tournament
More than 100 people, mostly Drexel students and faculty, filled a room in Gerri C. LeBow Hall on April 1, all intently watching the screen. It was the first week of spring classes, but this wasn't an evening lecture.
They gathered to watch the finals of the first-ever Dragon Bowl eSports Tournament, an intercollegiate Overwatch tournament hosted by the Drexel Solutions Institute as an extension of an esports project with Comcast. The event was also supported by Drexel's Division of Enrollment Management and Student Success and Senior Vice President for Student Success Subir Sahu, PhD. The final tournament was broadcast on Twitch with professional eSports broadcasting and production team (Ethan "LordThethan" Blackmon, Joel "Guthix" Harvey, Sam "Saxamego" Eldridge).
Led by Senior Vice Provost for Academic-Industry Partnerships Rajneesh Suri, PhD, and Associate Professor of Management and Provost Solutions Fellow Lauren D'Innocenzo, PhD, the tournament was run by recent PhD graduate Hongjun Ye and current business administration doctoral students Madison Miller and Youngdai Won, with assistance from undergraduate and graduate students.
Sixty teams from nearly 30 universities in the United States and Canada competed in two regional tournaments for the final eight seeds. Drexel Draggers (Christopher "Hitscan" Ku, Aron "JeffGoldblum" Feller, Kieran "Peanut" Conroy) was one of the final eight. Delaware Savvix Simps (Zachary "HYPER" Witte, Emilio "ShoddyPod" Obregon, Nathan "Nate12" Lax) won the tournament.
This was not just any eSports tournament, though. True to the Drexel Solutions Institute mission to connect industry with the Drexel community to solve real-world problems, the Dragon Bowl was unique in that it served as a research platform to study the emerging eSports industry.
"We can do a lot of different studies if we create a platform like this," Suri said. "It's like creating a field experiment where several research studies from different researchers can be implemented at the same time.
"Think of it like you created a mock store where different researchers could test their hypothesis. I think it's a novel way of moving research forward in eSports."
Read more on the Drexel News site.