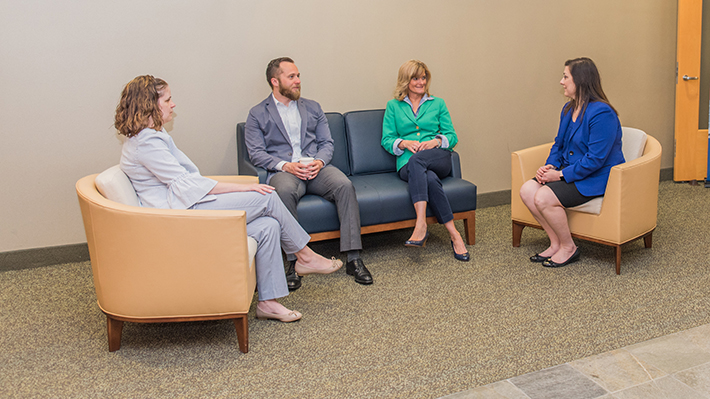 LeBow Offers Customizable MBA at Malvern
Drexel LeBow is relaunching its Part-Time MBA (Master of Business Administration) on its Malvern Campus featuring LeBow's newly revised MBA curriculum. The suburban location offers the same academic rigor as the part-time MBA program at LeBow's University City Campus in Philadelphia, but its flexible structure is designed to meet the needs of professionals who live or work outside of the city.
"The MBA at Malvern was strategically created for busy working professionals looking to advance in their careers," said Stavrula Katsirmas, associate director, integrated student experience and retention. "The program improves student's business acumen, enhances leadership skills and introduces important emerging business trends."
With the revised curriculum, new concentrations and increased flexibility, the customizable and cross-disciplinary program prepares students to solve complex business problems across industries. The part-time MBA features required data-centric coursework in major business disciplines including accounting, finance, analytics, economics, supply chain, strategic management, organizational behavior and marketing. Students can further personalize their coursework through a variety of business concentrations and graduate minors.
"I think one of the unique things about Drexel LeBow's MBA at Malvern is the ability to customize your program," said Donna St. Germain, MBA, '20, managing director, Bengal Communications LLC. "Many working professionals are doing multiple things in their career. I was able to bridge my MBA classes with graduate level classes in Drexel's College of Arts and Sciences that aligned with other parts of my job."
Katsirmas works with each Malvern student to help them tailor the program to their individual needs. She advises them throughout the entire process, whether it's choosing the right classes, finding professors that match with their experience or walking them through any issues that come up. She encourages them to take advantage of the semi-cohorted model to build relationships and network with their peers.
"When you do this MBA program it's about your cohort and your colleagues. Because Malvern is in the western suburbs and it's a smaller group of students, it truly is a community," said St. Germain.
Drexel LeBow's Malvern Campus offers free parking and is minutes away from Route 202, Route 30, the Pennsylvania Turnpike and Route 422.
"As a busy professional, the Drexel LeBow program here at Malvern really helped me get my career going. The location was very convenient so I could do it all and still progress at work," said Danielle Ruttman, MBA, '18, account director, Pfizer.