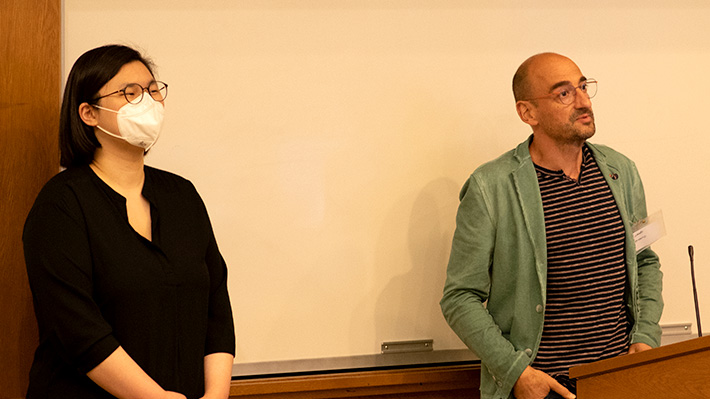 Innovation Microgrant Recipients Stake Out New Territory in Research and Teaching
As part of LeBow's commitment to the values of diversity, equity and inclusion (DEI) and to supporting sustainability, Dean Vibhas Madan made funds available to support research and pedagogical activities relating to both sustainability and diversity, equity and inclusion.
Here are the first four projects by students and faculty to receive funding through the Innovation Microgrant initiative. Several of the awardees presented initial findings as part of LeBow's inaugural Inclusive Impact Day on May 13, and the latest awardees will be announced by the end of spring term.
Andre Kurmann, PhD, professor of economics 
Among the newest undergraduate course offerings by the School of Economics is Using Big Data to Solve Economic and Social Problems (ECON 270), adapted from a popular course taught at Harvard University. Taught for the first time by Kurmann during winter term 2022, the course demonstrate how the field of economics can address a host of major societal problems — including racial and economic inequality, criminal justice, climate change, education and social mobility, and automatization and globalization — through the application of big data.
"Economists work on many topics that students really care about, and this class showed them, for each of these topics, how economists use huge amounts of data and modern methods to tease out what is happening," he says.
The innovation microgrant assisted Kurmann with preparing course material and enabled him to bring on a teaching assistant — Aseni Ariyaratne, a fourth-year student majoring in economics and mathematics — to teach weekly lab sessions where students gained hands-on experience with statistical software to analyze publicly-available big datasets.
Kurmann found that the course's most valuable discussions were around inequality, upward mobility and economic outcomes, and he seeks to build on these engaging conversations when the course is offered again in winter and spring terms during the 2022-23 academic year.
Ricardo Serrano-Padial, PhD, associate professor of economics
Though the field of behavioral economics has studied menu effects — in essence, how an individual's choices can be affected by what's being offered to them — for decades, the existing literature has yet to explore the impact these effects might have on labor markets. For his microgrant-funded project, Serrano-Padial planned a multi-term study conducting experiments to identify menu effects — namely, the "compromise effect" and the "attraction effect" — in perpetuating the gender wage gap. In planning and conducting these experiments, Serrano-Padial worked alongside Yin Zhang, PhD candidate in economics, who will draw on the experiments in her doctoral thesis.
The grant funded recruitment and compensation of experiment participants through the data-research site Prolific. These individuals were offered "contracts" to perform a job task — processing a certain number of forms in an hour — for a set wage, with the contracts offering varying rates and work commitments. Participants were also surveyed on the lowest hourly wage they would accept and whether a flexible schedule in performing the task is important to them.
"We see that women are more likely to seek a job role with flexibility, and this flexibility comes at a wage cost, which leads to gender pay difference," he says. "We want to see whether menu effects amplify gender differences in the demand for flexible jobs in labor markets."
Over the span of two terms, the researchers gathered a representative population of participants that reflects the overall gender and racial makeup of the United States, and they are conducting initial analysis along both gender and racial lines: looking at differences between men and women, and between white and non-white participants.
Jeffrey Levine, JD, PhD, assistant clinical professor of sport business and esport business BSBA program lead
As esports, or organized competitive video games, has grown in popularity and become a global phenomenon in recent years, colleges and universities are increasingly creating varsity programs as a "front porch" for brand-building, raising public awareness and distinguishing itself from potential competitors. Now, as collegiate esports is accelerating as an emergent space, more schools are weighing whether to enter the field and invest in this new frontier.
Colleges and universities entering college esports ought to be wary of several potential issues. The threat of gender-based harassment and violence, long present in video game and esports circles, create a barrier to entry for female esports participants. For instance, according to the National Association of Collegiate Esports, the rosters of college esports teams are over 90 percent male. This roster makeup invites questions about whether current structures and norms inhibit access and opportunity for female players at the college level, as well as what universities are doing to investigate and address these issues.
With a group of researchers from other universities, Levine is conducting a study to begin making sense of this emergent space. The group is probing issues of access, opportunity, discrimination, and harassment in collegiate esports through a mixed method study. The group is currently in the process of formulating a pilot study involving collegiate esport administrators and Title IX Office professionals to gain a baseline understanding of how collegiate esports programs interact with Title IX, the federal law ensuring equal access and opportunity for both men and women at institutions of higher learning that receive federal funding. Among the questions Levine and his team seek to answer, and which they shared at the Sports and Recreation Law Association's 2022 conference: are Title IX coordinators informed and well-equipped to handle these kinds of programs?
"There are unique issues with gender and harassment in this space, and there's very little data-driven research on Title IX and how it affects esports at the collegiate level," he says. "We want to get a sense of what decision-makers are facing day to day and of what structural issues have not been discovered yet."
The innovation microgrant went toward funding an initial round of qualitative interviews with university stakeholders, both within esports and college athletics, as well as transcription services.
Dennis Hatchett, Executive DBA student in the Class of 2023 cohort, and senior vice president, supply chain operations, American Tire Distributors
Inspired by an experience in his Qualitative Methods course with Rajiv Nag, PhD, clinical professor of management, Hatchett pivoted from a more quantitative focus, drawing on his engineering background and supply chain industry training, to address a more personal and emotionally resonant topic.
His study, "Standing in the Fell Clutch of Circumstance: An Investigation of the Intersection of Professional Identity, Meaning-Making and Voice Amid Polarizing Sociopolitical Events," seeks to unpack attitudes and feelings in the workplace about the impact of external events — particularly acts of violence, harassment and discrimination against members of marginalized groups.
Hatchett calls the initial interviews he's done with study participants "cathartic."
"To exist in the corporate space as a black professional, and to have to act like you're okay when you aren't, is a challenge, and some subjects have said it's a conversation they didn't know they needed to have," he says.
The Innovation Microgrant supported Hatchett's training in NVivo, a software program used for qualitative methods research, and provided incentives for subjects to take part in interviews, which will inform his dissertation.
Nag, who is serving as chair for Hatchett's dissertation, expressed excitement for the project's potential.
"The rich qualitative data that is being generated through interviews with Black managers promises to generate new conceptual insights and practical ideas about the management of diversity and inclusion in present-day organizations," he says.