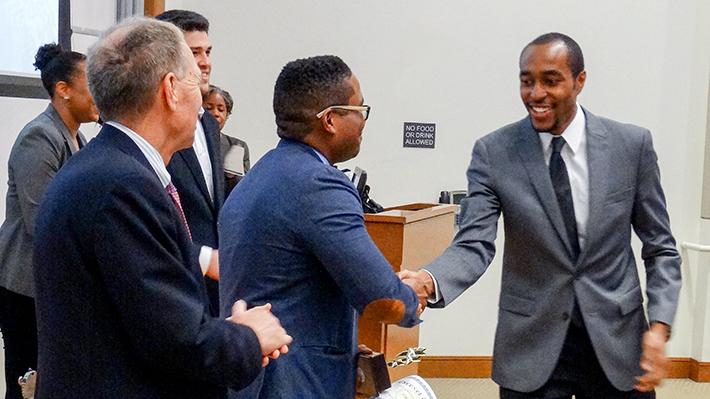 LeBow Celebrates First Graduating BRIDGE Class
June marks the graduation of LeBow's first class of students in the BRIDGE learning community. LeBow recognized 23 students at a special ceremony on May 13.
BRIDGE (Building Relationships in Diverse Group Experiences) is a learning community created in 2012 by LeBow to support underrepresented students as they develop and progress through their Drexel education. It offers social support through mentoring as well as extra academic support and a focus on community service, professional development and networking.
"I am ecstatic over the accomplishments and progress LeBow BRIDGE has made over the past 5 years. Designed as an academic enrichment program, it has exceeded all expectations," said Brian Ellis, assistant dean of undergraduate programs for LeBow.
"BRIDGE scholars have successfully connected with Drexel and LeBow alums, developed professional networks within industry, given back to our communities and most importantly created an inclusive environment built on academic and social enrichment."
For BRIDGE co-chair Christina Custus, who is graduating with a BS in Business Administration in legal studies and organizational management, BRIDGE has been more than just a learning community. It is a family.
"It has been awesome seeing my peers, especially my fellow graduating seniors, accomplish amazing things since the program's inception," she said. "We are incredibly proud of all the achievements of the BRIDGE scholars. This banquet was a great time to reflect on and celebrate all of these accomplishments, as a family.'
The program currently has 110 students and boasts a remarkable 90% five-year graduation rate with this inaugural class. The national six-year average was just 59% in 2015, and Drexel's five-year average was 66% for the graduating class of 2015.